PLEASE NOTE: Add your own commentary here above the horizontal line, but do not make any changes below the line. (Of course, you should also delete this text before you publish this post.)
---
This article titled "Best of the Sustainable Brands summit in San Diego" was written by Marc Gunther, Ucilia Wang and Jennifer Kho, for theguardian.com on Saturday 6th June 2015 02.19 UTC
3.19am BST
3.14am BST
3.12am BST
3.10am BST
7.26pm BST
1.22am BST
Karma marketing and the sufficiency economy
Could the key to sustainable business be changing corporate mindsets from a culture of "more" – more revenue, more profit, more market share – to one of "enough"?
Bangkok-based brand strategist Sirikul Laukaikul argues for a "sufficiency economy", in which companies help ensure that everyone has enough resources.
Updated at 1.22am BST
12.48am BST
Sprint pilots paper from wheat straw
Sprint is launching a two-month pilot project to test the use of paper made primarily of wheat straw, an agricultural waste that is typically burned, the company said at Sustainable Brands this week. Using paper made from wheat straw instead of trees could reduce deforestation, as well as cut pollution from burning wheat straw.
Updated at 1.21am BST
1.29pm BST
Kashi: the struggle to define a company philosophy
GSB editor-at-large Marc Gunther had this dispatch about Kashi's and Kellogg's:
"Inside every box, bag and wrapper," Kashi's says on its website, "there's not just real food, but a real food philosophy at work."
What's the philosophy? That's hard to say.
Some but not all of Kashi's products are organic. Some but not all are vegetarian or vegan. The company used to described many of its cereals and snack bars as "all natural" but it was forced to stop after settling a class action lawsuit, at a cost of m, last year.
Once a cereal company known for its whole grains, Kashi now makes snack bars, cookies, crackers, crisps, chicken and pasta entrees, waffles and a variety of pizzas including Indian Tikka Masala and Greek Tzatziki.
As for GMOs, don't ask.
Kashi works with the Non-GMO Project to verify that some of its products are GMO-free even as its parent company, Kellogg's, has spent nearly m opposing state-by-state efforts to require labeling of GMOs, according to Just Label It.
Jeff Johnson, who is Kashi's senior director of innovation and new ventures, as well as its "surfing nutritionist at large" – yes, that's his title – was asked to explain the company's position on GMOs during a panel at Sustainable Brands.
Instead of answering the question, he stated the obvious – that the integration of Kashi into Kellogg's, which bought the smaller company back in 2000, has not gone smoothly.
"I've been through all the ups and downs," Johnson said. "As we got bigger, we drifted from our purpose and made some mistakes. All of us, Kashi and Kellogg, have learned from those and come out stronger."
Kellogg couldn't even decide where to put Kashi for a while. In 2013, Kashi was moved from San Diego, where it was founded in 1984, to Battle Creek, Michigan, Kellogg's longtime home base. Last year, Kashi moved back to San Diego.
By way of explanation, Johnson said: "We all have parents."
Updated at 2.29pm BST
11.38pm BST
Two new ways to tackle human trafficking
Human trafficking and forced labor – often hidden deep in the supply chain – is thorny issue businesses to tackle. Companies that want to address the problem may not know how to do so or where to start.
But it's a huge problem: an estimated 21 million people are part of the forced labor worldwide, according to the International Labor Organization.
Ucilia Wang came across two potential solutions at the Sustainable Brands conference this week.
The first is a certification program by the Lacey, Washington-based Tronie Foundation, which aims to end human trafficking. Co-founder Rani Hong promoted the foundation's Freedom Seal program at the conference.
To apply for the seal, companies must meet 11 criteria to demonstrate they are taking steps to eliminate forced labor and indentured servitude in their businesses and supply chains. They must also pay an application fee, based on their annual revenue, of ,500 to ,000.
The certification, which launched last year, hadn't received applications until after it modified the criteria in February. She hopes to announce the inaugural class of companies to earn the seal on 30 July, the United Nations' World Day Against Trafficking in Persons.
Meanwhile, outdoor apparel retailer Patagonia chronicled its four-year-long effort to document and prevent slavery and other poor labor practices among its suppliers in a blog post published Wednesday.
The initiative began with a look at its Taiwanese suppliers, which were hiring laborers through brokers who charge migrant workers for finding them jobs.
The fees aren't illegal, but they create indentured workers. For one thing, brokers have been found to charge above the limits. A labor contract usually lasts three years, yet it could take a worker two years to earn enough to pay off the fees, according to California-based Patagonia. After the contract ends, the workers go home and start the process again.
The retailer now requires its Taiwanese suppliers to either pay for any broker fees or to bypass brokers and hire directly. It also requires them to reimburse any current workers who had to pay more than the legal fees if they were hired before 1 June.
Wondering how to track and create policies to eliminate human trafficking in your own supply chain? Patagonia has created a set of standards and a guide, and has posted it online for other companies to check out.
This post was amended 4 June. A previous version incorrectly stated the Tronie Foundation is based in Washington DC, and that it hadn't yet received any applications for the Freedom Seal. In fact, the foundation is based in Lacey, Washington, and Hong now says it has received applications since March.
Updated at 5.19pm BST
10.48pm BST
It pays to take care of employees, no matter where they live
Jennifer Kho has this dispatch from a talk with CEO of Levi Strauss, Chip Berg, on day two of the conference:
For every dollar invested in improving the lives of their workers, factories that supply Levi Strauss get – back, said CEO Chip Berg in an onstage conversation with GSB editor-at-large Marc Gunther on Wednesday.
At least that's what happened in a two-year pilot program the company conducted as part of its Wellthread collection of socially and environmentally sustainable clothing, he said.
"We decided that improving worker wellbeing was really the next level of engagement in our supply chain," he said. "It's not a secret – most factories are in developing countries, and most workers are women and low-income."
In its pilot program, which included a factory in Bangladesh, the company offered education on finance, health and wellness, as well as services such as free medical care, free transportation and more.
How does education, for example, yield financial returns? For one thing, most women at the factory don't go to work during their monthly cycle, Bergh said. Health education has resulted in more women coming to work during their periods, meaning they are making more money, demonstrating that women can work all month and lowering absenteeism, which reduces costs for the factory.
"We were working to demonstrate there is a business case here," Bergh said. "We've proven the business benefit to factory owners to make these investments to improve workers' lives."
Now it's up to the factory owners, he added. "We funded the pilot project, but now that we've proved the case, it should be investable by factories."
Adding another incentive for its suppliers, Levi aims to source 80% of its products from sustainable factories by 2020. It will be a challenge given the company sources from 20-25 different countries today, in both the western and eastern hemispheres.
"Change is hard and it takes a little bit of courage to take a step like this," he said. "We were willing to put money where our mouth is to demonstrate the business case… Our hope over time is this will be the new norm in the industry. By the time we're sourcing 80% from those factories, we will be touching 150,000 workers in the industry and we will have a big impact on those workers and companies."
Updated at 10.50pm BST
11.26pm BST
Has the sharing economy prevented a political uprising?
Jennifer Kho spoke with Jerry Michalski, founder of relationship economy coalition Rex, about his views on the sharing economy.
"In an economy where it's very hard to upskill, light, temporary work that you can operate at your convenience is essential," he said. "It's a palliative – otherwise we would have revolts in the streets."
In other words, as the gap between the rich and poor continues to grow, having the ability to get flexible work driving for Lyft or Uber, for example, can be a key stopgap for the unemployed or underemployed.
But that option isn't available to the poorest families, which might not have a car that's fancy enough for Lyft or Uber, Michalski added.
Companies like TaskRabbit and Fiverr offer odd jobs that wouldn't necessarily require a new car, but the pay is low and in many cases, workers haven't been able to make a living wage. "It's not enough money," Michalski said.
The lack of job opportunities for unskilled workers, though, isn't the only reason the sharing economy is booming.
Uber's revenues, for example, are three times the size of the taxi industry's in San Francisco. And Airbnb has grown to 1m rooms, with revenue of about 3m last year.
Part of the reason for all the growth is that sharing economy companies build relationships and community, whereas conventional businesses tend to come across as more transactional and impersonal, Michalski said.
Even the language that companies use, with terms such as "consumers" and "prosumers", doesn't make it sound as though they are talking about people, he said.
To "rehumanize" the relationship between businesses and customers, companies need to show they see their customers as peers. "Don't call them 'consumers'," he said. "'Consumer' is truly a deprecating word."
Meanwhile, business models such as Airbnb's help connect people in a different way, he claims.
For example, people are staying in his house in Noe Valley right now, and there are no hotels in his neighborhood, so without Airbnb, his guests wouldn't have been able to stay in that area.
"Even though it's transactional, we haven't lost the whole community thing," he says. "We're letting people into the house that we normally wouldn't, and we normally wouldn't get to see those people's houses that we visit."
The personal connection is what has kept the sharing economy from becoming just a rental economy, he hypothesized, but that could still change.
"If we get to the point where you're using someone's drill and then hiring someone to pick up the drill, then you've lost that" sense of community and it's just a transaction with delivery, he said.
Updated at 12.45am BST
11.03pm BST
Welcome to the Sustainable Brands conference slow blog
In sunny San Diego, California, nearly 2,500 business leaders, experts, investors and NGO advocates are gathering this week to discuss corporate sustainability at the Sustainable Brands San Diego conference. As they share new ideas and initiatives, case studies, and best practices, we'll collect the best nuggets to share with you here.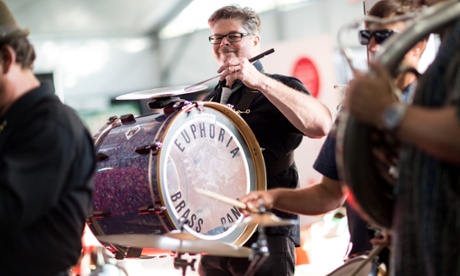 Updated at 12.44am BST
8.27pm BST
Closed Loop Fund to announce its first loans
GSB editor-at-large Marc Gunther sent this dispatch about recycling:
These are challenging times for recycling in the US, partly because our trash isn't worth as much as it used to be.
Low oil prices make it harder for recycled plastic to compete with virgin plastic, which is derived from petroleum. The slowdown in China's economy has reduced demand for recycled cardboard and paper. David Steiner, the chief executive of Waste Management, the US's biggest recycling company, recently told NPR: "I don't think crisis is too strong of a word [for] the recycling industry throughout the United States."
Help might be on the way. Next month, the Closed Loop Fund, a 0m investment fund to promote recycling in the US, plans to announce its first four loans, all aimed at improving recycling infrastructure. The loans will likely go to city projects that are designed to make recycling easier or more convenient for consumers, or to companies that offer ways to improve trash sorting and processing, according to Bridget Croke, the fund's head of partner relationships.
"Recycled material, by and large, should be economical to use – it should be cheaper – but there's not enough of it coming back into the system," Croke said this week at the Sustainable Brands conference in San Diego. The US's overall recycling rate has been stalled at about 34% since the 1990s.
Ten of the US's biggest companies, led by Walmart, announced the Closed Loop Fund in April 2014. Other backers include Coca-Cola, PepsiCo and Keurig, companies that, not incidentally, have been blamed for creating too much waste in the form of bottled water and coffee pods. Critics such as Matt Prindiville, associate director for environmental policy advocacy Upstream, call the fund insufficient and say it is a way to head off government regulation of waste.
"Our goal is to get it to at least 50%, at least for cans and bottles, by 2018," said Tim Carey, senior director of sustainability at PepsiCo.
The fund has received 45 to 50 applications since last fall, Croke said. "You'd be surprised how hard it is to give away money to a city," she said. "There's a lot of red tape." The fund itself has a "very rigorous due diligence process" aimed at choosing projects that are replicable and scalable," she added.
To its credit, the fund's leaders have set specific time-based targets. By 2025, they expect the initial 0m in investments will lead to more than 75m tons of greenhouse gas emissions cuts, the diversion of 27m cumulative tons of waste from landfills, the creation of 27,000 new local jobs and more than .9bn in savings from municipal waste disposal.
Updated at 12.44am BST
guardian.co.uk © Guardian News & Media Limited 2010
Published via the Guardian News Feed plugin for WordPress.