Buildbase Honda Aims To Continue Podium Performance At Hawkstone
     11 Aug 13
In the wake of its double podium success in the Red Bull Pro Nationals last weekend, the Buildbase Honda team has high hopes as it heads to Hawkstone Park this weekend for the seventh round of the Maxxis ACU British Motocross Championship.

Currently sitting fourth in the standings and buoyed by his well-deserved race win at Canada Heights, Nico Aubin will be going all out on the sand circuit of Hawkstone in a bid to improve his position as he fights for t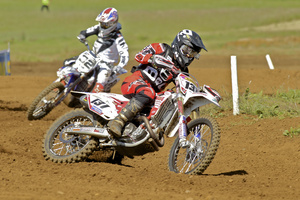 he championship title.
Newly-signed rider Brad Anderson proved his worth for the team last weekend with two second places and a third and he'll be looking to do just as well at Hawkstone Park. Now feeling at home with his Honda CRF450R, Anderson has his sights set on claiming his first Maxxis podium of the season and moving into the top five in the standings.
Dave Thorpe – Team ManagerNico and Brad enjoy Hawkstone and they're both really good sand riders, so we're looking forward to heading there with a two-man team. It should be an exciting weekend.
Nico AubinI really love the track at Hawkstone, last year I won one moto there, so I'm looking forward to trying to repeat those results. I hope that I can get on the podium at the end of the weekend.
Brad AndersonI really like Hawkstone but a lot of it depends on how the track is prepped. Hopefully it is watered well in advance and produces a good racing surface. I've worked on my sand riding this week so hopefully it will pay off and I can get three good starts and turn that into three good results come the end of the day.
For the latest news and images visit: www.honda.co.uk/racing
Follow us on Twitter: www.twitter.com/dthondaoffroad
Like us on Facebook: www.facebook.com/davethorpehondaoffroad