Category:
TV & Film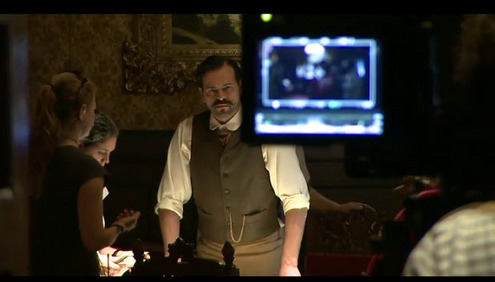 Historic-themed movies are inspired by Hitchcock, Singing in the Rain and Gone with the Wind The...
Read More
BBC TWO Ep 1/1 Monday 2 July 9.00-10.30pm The day after London won the Olympic bid terrorists attacked the public transport network, killing 52 people and injuring more than 700. Seven years later the eyes of the world...
Read More
THE REVEREND Starring Stuart Brennan, Shane Richie, Tamar Hassan and Rutger Hauer   "A phenomenal new take on the vampire film" SCREAM   Fresh from seminary school, a new Reverend (Stuart Brennan) arrives at his first parish; a...
Read More
JUAN OF THE DEAD DVD Release date: 4th June 2012 DVD RRP: £15.99 Cert: 15 "Hello, Juan of the Dead…We kill your loved ones…!" Following in the witty and gory footsteps of Shaun of the Dead, comes Cuba's first full-length horror...
Read More
Best TV ads ever What is your favourite TV ad of all time? It's a tough call for me. Looking back at the best TV adverts of just the last decade alone is hard enough. Since the turn of the century, the ads have changed from...
Read More
Throughout the brand?s rich history, Montblanc has been committed to celebrating true craftsmanship and the greatest artistic talent. Its recent partnership with acclaimed film director Wim Wenders on "The Beauty of a Second"...
Read More
Award-winning Tracy Beaker Returns is back on CBBC in an action-packed third and final series. The 13-part drama (13×30 minutes), devised by multi-award-winning children's author Dame Jacqueline Wilson and the drama team at...
Read More
MISS BALA DVD Release date: 20th February 2011 / Running Time: 78 Minutes DVD RRP: £19.99 / Cert: 15 OFFICIAL MEXICAN ENTRY 2011 BEST FOREIGN LANGUAGE FILM OSCAR FOLLOWING ITS CRITICALLY ACCLAIMED CINEMA RUN MISS BALA IS OUT ON...
Read More
THE ORDER OF THE GRAIL DVD Release date: 9th April 2012 Running Time: 108 Minutes DVD RRP: £15.99 Cert: TBC He who holds the Grail holds the World A white-knuckle journey into a blood-soaked world of mystical legend and...
Read More