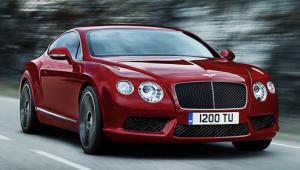 Today two new Bentley Continental V8 models, the Continental GT V8 coupe and the GTC V8 convertible, will be unveiled at the North American International Auto Show in Detroit.
The new 4.0 litre, twin turbocharged V8 engine achieves exceptional standards for power-to-emissions in the high luxury sports car sector. Combined with a new close-ratio 8-speed automatic transmission, this translates into a sub-5 second acceleration time for the 0-60 mph sprint and a top speed of over 180mph. At the same time the new V8 Continental models deliver outstanding levels of fuel efficiency and CO2 emissions and are capable of traveling over 500 miles on a single tank of fuel.
Expressing their potent, muscular character, these models are distinguished by a black gloss matrix grill, unique chromed 'figure eight' exhaust tailpipes as well as a new sporty interior.