Dame Kelly Holmes, Laura Weightman and Hannah England
talk about On Camp With Kelly and their aspirations for the summer.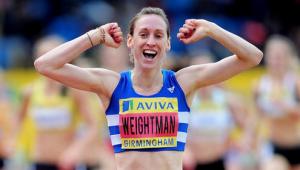 After winning two Olympic gold medals at Athens in 2004, Dame Kelly Holmes set out to help more dreams come true for the next generation of middle distance talent and prepare them for some of the challenges she faced during her twelve year international career with its major highs and lows.
Her mentoring and education programme, 'On Camp with Kelly', created with the backing of Aviva, has supported over 80 athletes, assisting them with the often difficult transition from junior to senior athletics.
The programme has seen some fine British athletes rise through its ranks, including Hannah England and Laura Weightman.
Dame Kelly Holmes talks about what inspired her to start the programme, what she's expecting from her athletes this summer and who else she'll be looking out for.