De-Clutter Your Wardrobe

     26 Jan 12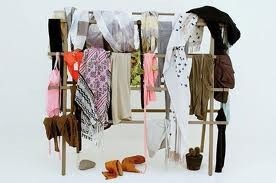 These next steps will help you achieve this
Empty your wardrobe
Create 4 piles
Organise
Colour co-ordinate
Take a trip to your local Charity shop
1)  Give yourself at least two hours to complete the task.  Start by completely empting your wardrobe.  You may as well give it a dust and a spruce up now you have the chance and hang a few scented wardrobe fresheners.
2)  Your 4 Piles will consist of:
Items you wear
Items you do not wear
Items you do not wear but have value (sentimental or financial)
Items you're not sure about
3) Re-stock your wardrobe
The items you do not wear but have sentimental value enclose in a storage bag/case and store away.
The other items of value, think about selling on an on-line selling site or take to a second-hand designer clothes shop (you may get more for your money here)
For items you are not sure about, be realistic if you have not worn that item in the last 6months (seasonal & black-tie clothing aside), you're not likely to wear it in the future, so pop it in the bag for the charity shop.
Re-stock your wardrobe with the items you wear in item order i.e.  tops, jeans, suits, dresses, skirts, shorts etc.  Put the items you wear most to the front and centre.
4) Group colours together within your item sections
i.e. white tops, jeans, dark suits, black tops,
5) Stretch your legs
Take a walk to your local charity shop and donate the clothes you do not wear to a worthy cause