Formula Gulf 1000 rookie Zaamin Jaffer, who took race victory on his debut in the United Arab Emirates-based championship during his category debut earlier this month, is aiming for continued success when rounds five and six take place at Dubai Autodrome next Friday, 25th November.
The 21-year-old Indian, who competed in the Protyre Formula Renault BARC Championship in the UK this year before participating in the Indian Grand Prix-supporting Delhi Championship with MRF races last month, returned to his family residence in Dubai immediately after the inaugural Formula One weekend in his homeland where an opportunity to debut in Formula Gulf awaited.
Starring on his first appearance in the UAE-based single-seater championship two weeks ago, the Mumbai-born racer set the standard immediately by qualifying on pole position 0.3 seconds clear before going on to take a memorable win.
Although slipping to second position off the start, Zaamin wasn't to be denied victory on his debut and after posting the fastest lap on the eighth tour of the 4.3-kilometre International Circuit he took the lead on the 10th and final lap to win by 0.2 seconds.
Lining up on pole position once again for race two, Zaamin got away well on the rolling start but into the first corner he lost around six seconds when a car spun in front of him under braking. Fighting back impressively, he charged through the order and set the fastest lap on the penultimate tour to finish in second place just 0.5 seconds shy of another win.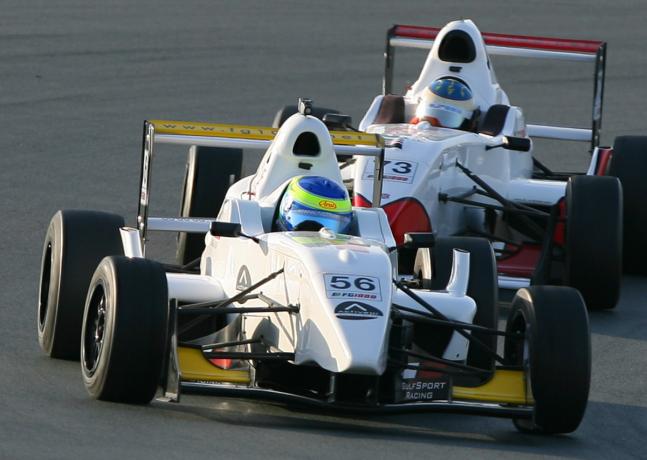 "I didn't know what to expect really on our first weekend but to take both poles, win the first race, almost win the second and set fastest lap each time was fantastic", said the Dubai-domiciled driver, "The plan was to end the year with the Indian Grand Prix support races in MRF but the opportunity to race in FG1000 presented itself so we had a go!
"After such a strong first weekend in the championship, we decided to stick around and do the next two races as well. I'm confident we can have another good set of results next weekend and that's going to be really important to end the year on a high."
Zaamin added: "We had a few issues in Formula Renault BARC this year so didn't end up showing our true pace unfortunately. Things went much more smoothly in MRF though and last time out in FG1000, if we can add to that with another really positive run next weekend that'll be a big boost to help try and secure the backing to keep moving forward in 2012."
Dubai Autodrome's Nation Circuit will host the fifth and sixth rounds of the 2011/2012 Formula Gulf 1000 Championship next Friday, 25th November.