Giant iTab Hits the Bullseye
     30 Dec 11
3 reasons why the Giant iTab has been one of the major success stories of 2011.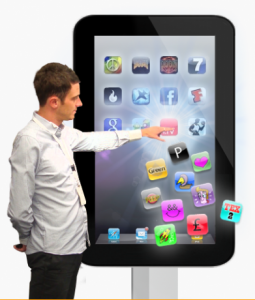 1. FAMILIAR TECHNOLOGY OF TODAY The Giant iTab solution copies the design, style and functionality of all the 'familiar' smart phones and tablets of today and therefore provides a more familiar digital signage solution which is far more attractive, intuitive and engaging for users – a major plus for any sponsors, advertisers and content providers.
2. VASTLY REDUCED COSTS The 3 cornerstones of cost for providing typical interactive digital signage are:-
a) Hardware & touchscreen displays
b) Software &content creation
c) Network Installation & update capability
Because the Giant iTab runs Apps, there is no additional cost for software development – the App already exists. Because the mac is housed locally or within the display there is no cost for expensive network installations. Because the Mac comes with wi-fi built in, updates are automatic each time the app is opened. So, less than half the usual cost.
3. FLEXIBLE AND PORTABLE SOLUTIONS The Giant iTab comes as a complete solution in a range of sizes from the neat 23" up to a massive 82" screen size. It has an extensive range of applications and can come in its own flight case for added portability and extended use at any number of events worldwide.
Media Contact:
Mark Jones, MD, Touch2View Ltd
T: 00 44 7810 893911
E: [email protected]
W: www.touch2view.com or visit our new product website at www.giantitab.com
"If digital signage was a dart board, the Giant iTab hits the Bulls-eye!"