Have A Happy And Sweet Christmas With XyloBrit
    11 Aug 13
According to the British Dietetic Association the average Brit will gain up to half a stone over the festive period, as the temptation of never-ending chocolates, mince pies and savoury snacks get the better of them.  BDA tips on how to counteract the calories on Christmas Day, include eating turkey without the skin, serving unbuttered vegetables and using desert-sized plates when serving the afternoon buffet.  Another great way to reduce the calories is to substitute sugar for great tasting XyloBrit.

XyloBrit (made from 100% Xylitol) is the sugar substitute everyone is talking about. From: Gregg Wallace to Gywneth Paltrow, Masterchef presenters, celebrity chefs: foodies, diet experts and dieting gurus are recognising the amazing benefits of using XyloBrit (xylitol) instead of sugar.

XyloBrit can help you lose weight and keep the pounds off when combined with a healthy diet and exercise programme.  It looks and tastes just like sugar, but with 40% less calories! It can be used just like sugar to sweeten drinks, to sprinkle on desserts or cereal and in recipes and baking as a sugar substitute.

XyloBrit is made from 100% pure Xylitol which is extracted from hardwood trees such as Silver Birch and not from corn, so it won't trigger allergies and has no aftertaste. It can be used just like ordinary sugar in hot and cold drinks, on desserts and cereals.  Unlike other sugar substitutes XyloBrit has a very low Glycaemic Index (GI = 8) and so can be used by people who are on low-GI diets.  It also doesn't require insulin to be metabolised and does not cause fluctuations in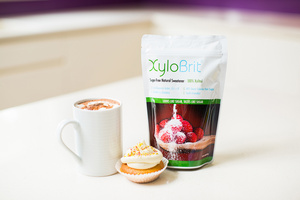 blood sugar levels so is suitable for diabetics.
And just when you thought XyloBrit couldn't get any better studies have also shown that Xylitol can contribute to the maintenance of healthy tooth enamel.so it can be good for your teeth as well.
Keep some of the weight off this Christmas and make the healthy switch from sugar to XyloBrit.  XyloBrit costs £3.29 for 250g and is available from health food stores in the UK or online from Forum Health
Tel: 01737 781410 /  [email protected]  Website: www.forum-health.co.uk/products_xylobrit.
For recipe ideas, competitions and free samples find us on Facebook: www.facebook.com/XyloBriti