HAWKINS CELEBRATES MSA ACADEMY INCLUSION BY CONFIRMING 2012 CAMPAIGN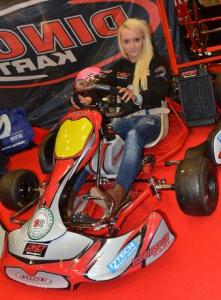 Naturally talented kart racer Jessica Hawkins is set for, potentially, her best ever year in 2012 after officially confirming a works deal to contest the Super 1 MSA British KF3 Kart Championship along with selected European events – all in addition to being chosen for the prestigious MSA Academy.
Despite competing on a shoe-string budget since her debut in 2005 the Farnham teenager's ability has shone through every year, not least in winning the ABkC 'O' Plate Cadet Championship in 2008 and finishing runner-up in the Junior Rotax class of the 2011 MSA Kartmasters British Grand Prix. In addition, Jessica took a memorable Junior Rotax victory on her BNL Karting Series debut in Belgium.
Having been selected as one of just five karters – most notably the only female – to join the highly prestigious MSA (Motor Sports Association) Academy this year, the 16-year-old has now set her sights on a strong season at home and abroad after putting pen to paper with PKP Motorsport.
Driving a factory Dino Kart this year, powered by a factory Maxter engine, the teenage sensation will race in one of the UK's premier categories while also taking on the best in Europe with a planned programme of CIK-FIA events on the continent. Prior to that, Jessica's first major racing of the year will come at the end of February in the ABkC 'O' Plate event at PF International near Grantham.
"I'm really looking forward to this season in KF3, it's great we've got a deal with PKP and hopefully we'll have a strong year together with some good results", said Jessica, "It's a really important year for me and it's the first time I've ever had factory backing, so I can't wait to get started."
Her involvement in the MSA Academy will afford Jessica the benefit of essential coaching throughout the year from Motor Sports Association professionals. Clearly a positive addition to her racing and off-track preparations, Jessica will receive key guidance on how best to develop her career.
"It's such an honour to be chosen for the MSA Academy, I'm really grateful to the MSA and I want to repay the faith they've shown in me", added the Hampshire racer, "It can only be good for my race career and I'm really looking forward to learning more through the coaching programmes. It's a huge confidence booster to have had my talent recognised by such a prestigious organisation."
Following the ABkC 'O' Plate events on 25th/26th February and 10th/11th March at PF International and Shenington respectively, the opening round of the seven meeting Super 1 MSA British KF3 Kart Championship will take place over the weekend 21st/22nd April at PF International.