It's A Walk In The Park For The Impressive Kuoch
     11 Aug 13
For the second successive year, the English Boys under 14 Championship has gone to a foreign player after Antoine Kuoch captured the Reid Trophy in the sunshine of North Hants Golf Club.

The 14 year old French lad, who led the event from start to finish, carded a closing 73 for 211, one over par, winning by five strokes from Coventry's Tom Charley with another French lad, Niklas Lacroix third on 218.

Last year the title went to Spain and although Derbyshire's Bradley Moore won in 2011 at Porters Park, Scottish youngsters triumphed in the previous two years, which means only one English player has won t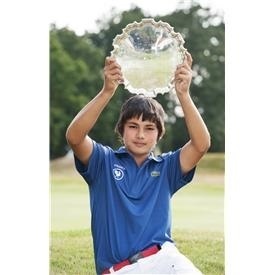 he title since Toby Tree was successful at Coxmoor in 2008.
Kuoch (copyright Leaderboard Photography), proved the best of a sizeable overseas entry of 54 players. Leading by five strokes at the start of the day, he covered the front nine in level par to extend his lead to six before a birdie at the tenth edged him seven clear.
But then he ran into his first trouble of the week. At the short par four 14th, Kuoch's drive finished in rough and in tried to find the green, he fired his second into bushes and lost the ball. Taking a penalty, he chipped short and finished with a triple bogey seven.
Not that it mattered much, in fact he could afford a bogey six at the long 17th and still win comfortably as no one managed to mount a serious challenge.
Kuoch speaks little English so through a translator, North Hants' general manager Chris Gotla, he said: "This is the biggest title I've won so far and it is good. I wasn't confident coming into the championship as I didn't have a practice round because my clubs were still at the airport."
He added that he knew he was seven shots ahead after the tenth hole and the triple at 14 didn't worry him.
Charley was a deserved runner-up on 216 after three rounds of 72 off a handicap of five. The 14 year old from the Stoneleigh Deer Park club said: "It was a bit of an up-and-down round. I felt conditions were slightly easier than yesterday but some of the pins were difficult."
The under 13 championship also passed into foreign hands with American Markopolo Fullepp from San Diego, California, triumphant with a final round of 72 for 220, ten over par, one ahead of Spaniard Eugenio Lopez-Chacarra, who bogeyed the last for 74 and 221.
For more information, scores and photos visit the Reid Trophy webpage.