Jadoo Theatrical Release Sept 6, Cast Available For Interview
08 Aug 13
Starring: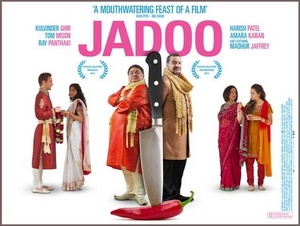 Kulvinder Ghir, Harish Patel, Amara Karan,
Tom Mison & Madhur Jaffrey
"A mouthwatering feast of a film"
BBC Radio Wales
IN UK cinemas 6 September 2013
 A heart warming film about family, food and forgiveness
 Written and Directed by Amit Gupta
 Jadoo is a British-made film set in Leicester, and tells the story of two brothers, Raja (Harish Patel – Run Fatboy Run) and Jagi (Kulvinder Ghir – Bend it Like Beckham). Both are wonderful chefs, who fall out so catastrophically that in the climax of their dispute they rip the family recipe book in half: one brother gets the starters and the other gets the main courses. They set up rival restaurants, on opposite sides of the Belgrave Road in Leicester; one cooking starters and the other main courses, and refuse to talk to one another.
A delicious foodie-comedy, Jadoo's secret ingredient is a delightful romantic twist, which sees Raja's daughter Shalini (Amara Karan – The Darjeeling Limited), attempt to get the brothers talking again. She hatches a plan and asks them to work together to cook her a perfect Indian wedding banquet…but will she succeed?
The film also stars Indian chef and actress Madhur Jaffrey, Tom Mison (One Day), Ray Panthaki (Eastenders), Paul Bazely (Benidorm), Adeel Akhtar (Four Lions), and the late Sophiya Haque (Coronation Street) and Paul Bhattacharjee (Casino Royale). Jadoo, which means 'Magic' in Hindi, is written and directed by Amit Gupta whose debut film Resistance garnered him a Best First Film Award nomination by the Writers' Guild of Great Britain Awards, and is produced by Richard Holmes (Eden Lake), Isabelle Georgeaux (Resistance), Amanda Faber (Resistance) and Nikki Parrott (The Market: a Tale of Trade).
The film received its World Premiere at the Berlin International Film Festival, and will also feature in this year's Culinary Zinema: Film and Gastronomy section at this year's San Sebastian Film Festival.
Cert: 12A                               Running Time: 90 minutes