PLEASE NOTE: Add your own commentary here above the horizontal line, but do not make any changes below the line. (Of course, you should also delete this text before you publish this post.)
---
This article titled "Just who would make the perfect Rugby World Cup coaching team?" was written by Robert Kitson, for theguardian.com on Tuesday 13th October 2015 11.18 UTC
The perfect rugby coach does not exist. It might loiter fondly in a few imaginations but even football's ultimate manager Sir Alex Ferguson says it is impossible to win every match. Players are human beings and prone to mistakes, even if a genius is picking the team. As England's James Haskell put it this week: "Coaches can't control a game from the stand, however good they are."
True enough. But what if a major union set out to clone its ideal super-coach, cherry-picking the best attributes from rugby's shrewdest sages?
Imagine if all the necessary requirements – great selectorial instinct, outstanding man-management skills, smart tactical brain, strategic vision etc – were on a warehouse shelf, available on request? Whom would you pick to fill which roles to win the next World Cup?
The obvious place to start is Japan. If there was a prize for the best technically coached side in the 2015 tournament it would be the Brave Blossoms. From their short, sharp scrummaging to their outstanding ball presentation to their sure ball handling to their up-tempo style they have been an object lesson to those who argue that good rugby teams are born not made. Eddie Jones has enjoyed success all over the world, not least as part of South Africa's World Cup-winning management team in 2007, but Japan's three pool wins out of four has been his finest coaching hour.
Jones, along with his assistants, Steve Borthwick and Marc dal Maso, has pulled off the greatest trick of alchemy in sport: extracting extraordinary deeds from a supposedly average bunch of players. 'Fast Eddie' has indicated he could be interested if England ever have a vacancy; at this moment he could probably dictate his own terms. Few, furthermore, can match him for press conference sharpness. "Twenty million people watched the Scotland game," he observed the other day, reflecting on the massive interest in Japan. "That's the population of Australia including all the kangaroos."
What about an attack coach? Look no further than Wayne Smith, whose quiet influence has permeated into a succession of All Black three-quarter lines. If he is out of stock in our mythical warehouse, a new contender could just be emerging in the shape of Stephen Larkham, Michael Cheika's assistant with the Wallabies. Larkham was a wonderfully subtle player and the rapid improvement being shown by the current Wallaby fly-half Bernard Foley does not seem a total coincidence.
As for Cheika himself, you would certainly covet his ability to instil a bit of mongrel into any side he comes into contact with. He also has a track record of success in both hemispheres and hails from the same Randwick breeding-ground as Jones.
Scrum coach would currently be Mario Ledesma, whose party trick is lying on the ground in the tunnel beneath his front-row forwards as they practise live scrums above him. His worm's eye view seems to be working a treat.
Too many Australian-based candidates? Time to head back across the ditch to engage a couple of master selectors. Steve Hansen and Warren Gatland share a healthy disregard for media opinion and possess a knack of picking the right men for the right assignments.
Gatland, famously, omitted Brian O'Driscoll for the third Lions Test in 2013 and still emerged victorious; Hansen is good at making strong squads even stronger, with Waisake Naholo the latest example.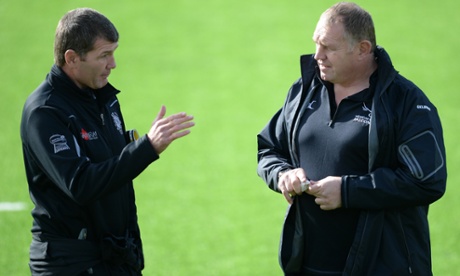 A couple more on the panel? How about Dean Richards, who has long had a rare ability to judge rugby flesh, and his up-and-coming modern equivalent, Rob Baxter. Few have a sharper eye for a shrewd signing than Exeter's big Chief.
Now all we need is someone to draft a bespoke game plan each week. Easy. Joe Schmidt seems to work a number on virtually all Ireland's opponents, with France merely the latest example.
Not many Lions coaching duos would give Hansen and the All Blacks sleepless nights in 2017 but, if Gatland and Schmidt joined forces, it would be fascinating. If logic suggests it would not work – too many cooks and so on – their Kiwi inside knowledge would hardly be a minus.
It is a pretty crowded coaching box now, with room only for a couple more specialists. Defence coaches come and go but Shaun Edwards is a born winner – even Australia could not breach Wales' red line last weekend. Likewise Wales' kickers seem to be getting better and better, a credit to their skills coach Neil Jenkins. Maybe South Africa will have too much heft for a battered Welsh squad but the spirit within Gatland's squad is not an accident. Edwards will be a good signing for someone when he finally leaves Wales.
So there we have it. The perfect super-coach or, if you prefer, a super coaching team. If only there was a union in need of fresh impetus with the financial muscle to pursue a similar experiment.
In this era of coaching titans it increasingly pays to recruit the best.
DOMESTIC GODS
By arranging for the new league season to kick off on the same weekend as the World Cup quarter-finals, it is almost as if Premiership Rugby suspected England would not make it beyond the pool stages. At least it offers some disappointed English players an outlet for their frustration, as well as giving their rivals a handy target against which to measure themselves. The season is so long and unrelenting that predictions are hazardous but my play-off selections are Bath, Saracens, Northampton and Exeter Chiefs, with London Irish and Worcester jostling to survive the drop in the most competitive league season on record.
ONE TO WATCH
New Zealand v France, Cardiff. It has become one of rugby's keynote fixtures; history shows that underestimating France when they face the All Blacks is the ultimate folly. This time, surely, New Zealand will be too slick and smart but the French forwards remain capable of causing problems at the set piece and breakdown. Could more Millennium madness await?
guardian.co.uk © Guardian News & Media Limited 2010
Published via the Guardian News Feed plugin for WordPress.