Usain Bolt, Bradley Wiggins, Sebastian Vettel, Michael Phelps & Ye Shiwen among the nominees for the 2013 Laureus World Sports Awards announced by Laureus chairman Edwin Moses and Sérgio Cabral, Governor of Rio de Janeiro
[contentbox headline="Laureus Sports Awards" type="normal"]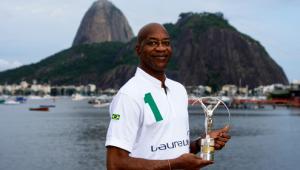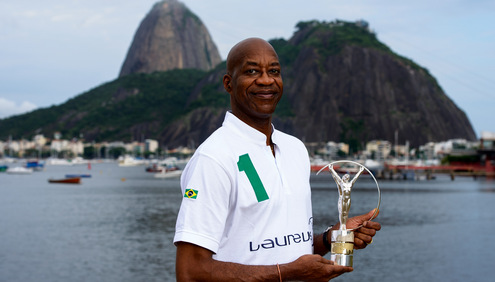 THURSDAY 13th DECEMBER 2012 – RIO DE JANEIRO, BRAZIL
:  A glittering collection of the world's Olympic and Paralympic stars have been nominated for the 2013 Laureus World Sports Awards, following a ballot by the world's media. The exceptional performances in London just a few months ago that thrilled the sporting world and produced unforgettable gold medal winning moments have produced Nominations in every category.
Usain Bolt, Jessica Ennis, Missy Franklin, Andy Murray, Michael Phelps, Ye Shiwen, Bradley Wiggins and Serena Williams are among those who received Nominations when the shortlist was announced in Rio de Janeiro today.
But they will be challenged by some outstanding performances from non-Olympians, particularly footballer Lionel Messi, who this week broke Gert Muller's record for the record number of goals scored in a calendar year and is nominated for the fourth straight time, and Sebastian Vettel, winner of a third straight Formula One World Championship. Other notable nominees include the European Ryder Cup Team, nominated for both the Team and Comeback of the Year Awards, with David Weir and Alex Zanardi both nominated for Disability Sportperson of the Year.
The Laureus World Sports Awards, which recognise sporting achievement during the calendar year 2012, are the premier honours on the international sporting calendar. The winners, as voted by the Laureus World Sports Academy, the ultimate sports jury, made up of 46 of the greatest sportsmen and sportswomen of all time, will be unveiled at a globally televised awards eeremony staged in Rio de Janeiro on March 11th 2013.
Proceeds from the Laureus World Sports Awards directly benefit and underpin the work of the Laureus Sport for Good Foundation, which supports more than 100 community sports projects around the world. Since its inception, Laureus has raised over €55 million for projects which have improved the lives of more than one-and-a-half million young people
FULL 2013 LAUREUS WORLD SPORTS AWARDS NOMINATIONS
SPORTSMAN OF THE YEAR 
Usain Bolt (Jamaica), Lionel Messi (Argentina)  Sebastian Vettel (Germany), Mo Farah (UK), Michael Phelps (USA), Bradley
Wiggins (UK)
SPORTSWOMAN OF THE YEAR 
Jessica Ennis (UK), Allyson Felix (USA), Missy Franklin (USA) , Shelley Ann Fraser Pryce(Jamaica), Lesley Vonn (USA),
Serena Williams (USA)
TEAM OF THE YEAR 
European Ryder Cup Team, Miami Heat, Spanish Men's Football Team, US Men's Basketball Team, Red Bull Formula One Team, Chinese Olympic Table Tennis Team
COMEBACK OF THE YEAR 
European Ryder Cup Team, Ernie Els (South Africa), Anna Meares (Australia), Felix Sanchez (Dominican Republic), Tirunesh Dibaba (Ethiopia), Germany Olympic Eights Team Rowing
BREAKTHROUGH OF THE YEAR
Yannick Angel (France), Kirani James (Grenada) , Andy Murray (UK), Neymar (Brazil), Ye Shiwen (China), Gabby Douglas (USA)
DISABILITY SPORTSPERSON OF THE YEAR 
Patrick Anderson (Canada), David Weir (UK) , Alex Zanardi (Italy), Johanna Benson (Namibia), Daniel De Faria Dias, Alan Fonteles Oliveria (both Brazil)
[/contentbox]