Payne prepares to challenge in the pool
at the British Gas Swimming Championships
Open water World Champion Keri-anne Payne sets her sights on qualification for the pool swimming events at the biggest competition of her career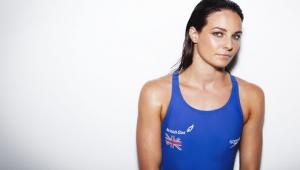 Keri-anne Payne is already one of the best prospects for a home gold medal in the 10km open water swimming event this summer, but now the World Champion is turning her attention to qualification in the pool.
The Stockport based swimmer will compete at The British Gas Swimming Championships, which doubles as the Olympic selection trials, from 3rd – 10th March 2012 at the London Aquatics Centre.
Keri-anne has already shown her ability as a great all-round swimmer with a bronze medal for England in the 400m Individual Medley at the 2010 Commonwealth Games in Delhi.
However, the current crop of exceptional British female swimmers, means that the Olympic open water silver medallist from Beijing will have to battle hard in her first competition at the pool where our best athletes will be hoping to achieve success this summer.
Keri-anne became the first GB athlete in any sport to secure nomination for Team GB when she defended her open water swimming world title in Shanghai last year and qualification in the pool is just as important to her.
Spectators can expect to see no less than 100 per cent effort from this fierce competitor at the British Gas Swimming Championships next month.
[mappress mapid="4″]