Popo On A Roll Stateside, Courtney Ready For The Run-In
     11 Aug 13
With under two weeks to go until the Swatch Girls Pro France commences, Swatch Proteam surfer Pauline Ado has been staying sharp with two semi-finals appearances in California, at the Vans US Open in Huntington Beach and the Ford Supergirl Pro in Oceanside. "I really enjoy being in America as it's so different to home," said Hendaye's finest, "And I was really happy with a pair of equal 3rd's amongst such strong competition." Pauline will be looking to go one better and make her first final of the SWATCH GIRLS PRO FRANCE 21st-25th August 2013.

Meanwhile, fellow Swatch Proteam surfer Courtney Conlogue sits at No.3 in the ASP Women's World Championship Tour and with the remaining events taking place on European shores, the SWATCH GIRLS PRO FRANCE offers Courtney the perfect opportunity to get used to the Atlantic surf before contesting the 2013 ASP Women's World Title. "I'm real excited about the European leg for sure, I'll be over there for six weeks straight," said Courtney. "This year the race is really close between us, so it's going to be real exciting. Make sure you come and and cheer us on!"

The pair, along with fellow Swatch Proteam surfer Coco Ho and other elite level surfers Sage Erickson and Laura Enever will be among the top seeds for the SWATCH GIRLS PRO FRANCE 2013, which will also offer qualifying surfers a last chance to improve the their ranking and secure a slot on the 2014 ASP Women's World Championship Tour. "I love the waves in France and I could do with a good result, so I'm super excited about heading back over there," admitted Sage. "The Swatch event is always a pleasure to compete in, not just for the surf but for the ambience, the vibes and the culture.

Le Penon Pumps, Hawaii Comes To Les Landes!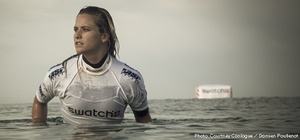 As the summer doldrums of early July have given way to a consistent three week run of great surf, warm water and scorching weather in southwest France, the Penon sandbar selected as the venue for this year's SWATCH GIRLS PRO FRANCE continues to offer the very best waves on the coast. With the local waters turning turquoise, topping a balmy 24 degrees and regular dolphin sightings along the Hossegor/Seignosse coast, summer surfers could be forgiven for thinking they've taken a wrong turn and ended up in the tropics! As the world's best female surfers prepare to arrive in France, fingers crossed for more of the same!
The press conference of the SWATCH GIRLS PRO FRANCE will be held on August 19th at 10am at the Rock Food bar at La Centrale Beach in Hossegor. Please confirm your attendance at [email protected]
Follow the Swatch Proteam surfers' progress en route to Hossegor, as well as all other updates, news and videos on www.swatchgirlspro.com
To download the profiles of the Swatch Proteam surfers and the SWATCH GIRLS PRO FRANCE 2013 press kit, please visit www.swatchgirlspro.com