Rye Wild Boar Week At The Gallivant
     22 Aug 13
It is a little known fact that in the woodlands and forests around the Cinque Port town of Rye in East Sussex, there are herds of wild boars breeding and running wild, as in medieval times.

From 26th October to 3rd November local restaurants create special festival dishes to give guests the opportunity to savour the culinary delights of wild boar. From Medieval Banquets to Wild Boar Guided tours through the woodlands and Farmers Markers, Rye comes alive with medieval festivities.

To celebrate Wild Boar Week Trevor Hambley, Head Chef of The Beach Bistro at The Gallivant Hotel has developed two special Wild Boar dishes, which will be served all week in the bistro, just a stone's throw from the sand dunes of Camber Sands beach:

Starter: Seared rye Bay scallops, crisp wild boar risotto cake with spiced Kentish apples

Main Course: Roast loin of wild boar, caramelised baby vegetables , marjoram jus and a mini suet pudding

These exclusive dishes will be served alongside The Beach Bistro's seasonal menu, over 80% of which is sourced from local fisherman, farmers and artisan producers for the very best of East Sussex's bounty.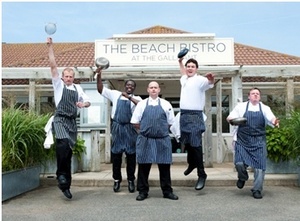 Dinner, bed and breakfast at The Gallivant from £175
www.thegallivanthotel.com ~ www.thebeachbistro.com