Samsung Honda Aims To Continue Winning Ways At Oulton Park Triple-Header
     11 Aug 13
Samsung Honda heads to Oulton Park this weekend for a triple-header that could see the team book its place in the British Superbike Championship Showdown. The team's riders have historically reaped good results at the Cheshire circuit, with both Alex Lowes and Ryuichi Kiyonari securing podiums and race wins there in the past – Lowes as recently as round three of this year's championship.

Just 21 points adrift of championship leader Shane Byrne and following another double podium at the last round at Brands Hatch, Lowes is ready to repeat his winning performance. The Lincolnshire lad has a mathematical chance of securing his position in the Showdown this weekend, with two rounds still remaining for riders to claim their spot in the title fight.

Kiyonari returns to the UK following his recent appearance in the Suzuka Eight Hour race in Japan. His focus is now fully back on BSB as he aims to challenge for the podium and maintain his position inside the top six.

In the Motorpoint British Supersport Championship, Jason O'Halloran is aiming to improve on the fourth place finish he secured at the first Oulton Park round in May. The team has been edging ever closer to its first Supersport podium finish of 2013 and is hoping to break into the top three this weekend.

Havier Beltran – Team Manager
The team has had a short break since the last round at Brands Hatch and this has given us time to look ahead to Oulton Park, which will be an important round with three races. At Brands we became the first team to have two riders on the podium this year and with some more hard work I hope that we can achieve some strong results again this weekend with Alex and Kiyo. In the Supersport class, Jason had a fourth place at Oulton earlie

r in the season, so we hope that we can work towards our first podium of this year.

Alex Lowes
After the break we've had I can't wait to get to Oulton Park, especially with three races. We want to come back this weekend and take it to Shakey and Josh like we did here earlier in the season. We had our first win at here in May so that's a good place to start but we know we need to be faster and keep improving as that's what everyone else will be doing ahead of the Showdown. I'd definitely like to get to Oulton Park and push for wins; I wan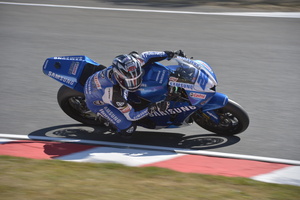 t to keep improving myself and the Samsung Honda and try and score some more podium credits.
Ryuichi Kiyonari
It feels like a long time since the last round because we had the Suzuka Eight Hours after Brands Hatch. I had a crash there but now I want to focus on coming back to BSB this weekend and do the best I
can for the team. Oulton Park has been a good track for me before so we will try hard and push to try and be fast again and I really hope we can have three good results. We need to have these results to stay in the top six for the Showdown.
Jason O'Halloran
I think we can definitely build on last time out at Brands Hatch this weekend; we had a good result and two solid finishes but we've been getting closer and we feel like the hard work is paying off. We had a fourth place in the Feature race last time we were at Oulton Park and now we just need to find that small extra improvement and hopefully we can aim for the podium this weekend.
For the latest news and images visit: www.honda.co.uk/racing
Follow us on Twitter: www.twitter.com/samsunghonda
Like us on Facebook: www.facebook.com/samsunghonda