Smile With Confidence
This Valentines Day
     26 Jan 12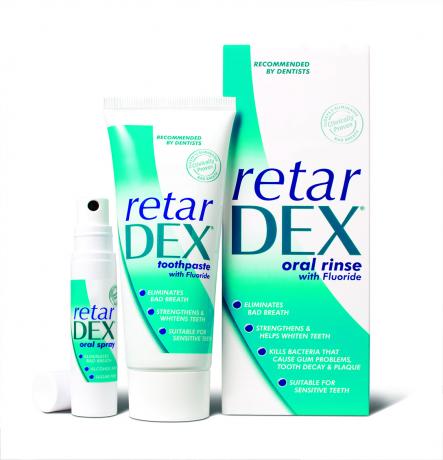 A dazzling white smile can do wonders for your confidence and in turn ensure you look and feel your very best. Make sure you have plenty of this confidence this Valentine's Day with the RetarDEX range of Toothpaste, Oral Rinse and Oral Spray. Not only will the range help keep your smile bright, it is also clinically proven to keep bad breath at bay.
RetarDEX Oral Rinse and RetarDEX Toothpaste contain a patented ingredient that eliminates the compounds that cause bad breath, whilst protecting your teeth against plaque and tooth decay. Both products are also proven to whiten teeth within just 14 days. Oxygen release technology lifts stains from the teeth, whilst the anti-plaque formula helps to prevent further staining.
Looking to seal that date with a kiss? Make sure you're fresh and prepared by popping the RetarDEX Oral Spray in your handbag, ready for an extra boost of freshness when that all important moment approaches. The slim-line spray is a great alternative to chewing gum and can fit into even the smallest of clutch bags. It also contains a patented ingredient that has been clinically proven to eliminate the bad breath causing compounds in the mouth.
So whether you're planning a big date or cuddling up with your loved one at home – trust RetarDEX to give you the confidence to smile this Valentines Day.