Thomas Pink Fashion.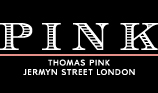 Part of the Louis Vuitton Moet Hennessey group, Thomas Pink is a British shirt maker with flagship stores in London's Jermyn Street, Madison Avenue, New York and Rue Francois Premier, Paris. The largest Thomas Pink store of them all is www.ThomasPink.com.

Every Thomas Pink shirt is an exercise in perfection. All our shirts have been crafted to the same exacting standards, keeping alive the impeccable heritage of London's Jermyn Street, home of traditional British shirt-making.The Women's Collection offers fitted styling in stretch and cotton poplin, relaxed fits for casual and a wealth of shirt inspired tunics and dresses.
The Thomas Pink online collection includes:
Men:
Formal ShirtsCasual
ShirtsTailoring
Knitwear
Ties & Cufflinks
Women:
Shirts/ blouses
Knitwear
Dresses
Tailoring
Accessories