Usain Bolt & the Jamaican Athletics Team
Preview the World Championships
Sprinting superstars including Usain Bolt and Yohann Blake Give Their Thoughts Ahead of the World Championships in Daegu, South Korea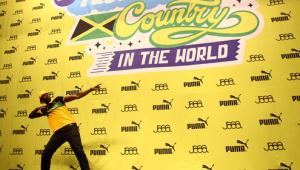 Usain Bolt, The World's Fastest Man, and other medal hopefuls including Yohan Blake, Nesta Carter, Michael Frater Veronica Campbell-Brown, Melaine Walker, Shelly-Ann Fraser-Pryce and Kaliese Spencer from the Jamaican Track & Field team assembled today with members of the Jamaica Athletics Administrative Association (JAAA) and team partner PUMA® to share their aspirations for success at the 13th IAAF World Championships in Daegu.
Howard Aris, JAAA President, Grace Jackson, JAAA Vice President and Team Technical Leader for the World Championships and Alfred Francis, JAAA member and PUMA's authority on all-things-Jamaican, united with the athletes in their eagerness to make Jamaica proud and to celebrate the globally renowned PUMA partnership.
The most celebrated star to emerge from Jamaica in recent years is three-time Olympic gold medalist and world record holder, Usain Bolt. In Korea, Bolt will be joined on the track by fellow teammates and PUMA-sponsored athletes Lacena Golding-Clarke, Trecia-Kaye Smith, Maurice Smith and Jermaine Gonzalez.
Abundant with talent, the Jamaican Track and Field team is the one to watch, boasting winning hopefuls such as Asafa Powell, the former 100m, record holder; Yohan Blake, the 4th fastest Jamaican runner in history; Melaine Walker, who has recorded the second fastest female 400m Hurdles time in history; and Veronica Campbell–Brown, winner of five Olympic medals.
Usain Bolt will wear the PUMA Bolt Spike Ltd during the IAAF World Championships in Daegu, Korea, the latest innovation of the Theseus II track spike. The World's Fastest Man first wore this line of spike when he broke the 100m World Record in New York in 2008, and has continued to wear them through its various evolutions. Notably PUMA produced a unique gold version of the shoe for Bolt to wear in Beijing that helped power The World's Fastest Man to collect three gold medals during the 2008 Olympic Games. Bolt then wore an evolution of the spike during the 2009 IAAF World Championships in Berlin, which helped Bolt blow his competition away when he smashed his own 100m and 200m world records.
All eyes will be on Bolt in Daegu this year at the IAAF World Championships where he will compete in the 100m and 200m events.
PUMA saw a unique blend of athleticism and fun in Bolt when he signed with the sportlifestyle company at the age of 16. The brand continues to foster young talent through its sponsorship of many high schools track and field programs and events- most notably, the ISSA Boys & Girls Championships which is lauded as the most popular domestic sporting event in Jamaica. For more information, visit www.pumarunning.com