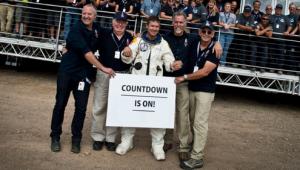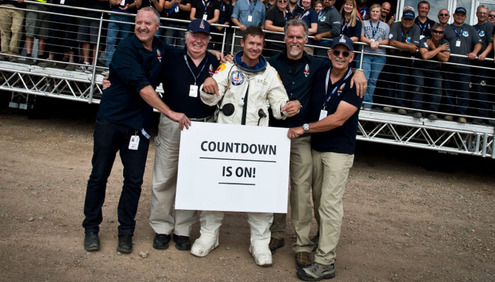 Felix Baumgartner names the date for his final 120,000 ft. record breaking jump from the edge of space
Austrian base jumper completes final technical and safety tests and is now just days away from attempting to break the 52 year-old record
After five years of preparation, the final countdown is on for Felix Baumgartner's attempt to become the first person to go supersonic after completing a 120,000ft / 36,576m freefall from the edge of space. After suffering damage at the final test jump in July, the repaired capsule has been certified safe to fly after undergoing an altitude chamber test which simulates the near vacuum conditions of the stratosphere. This validation means the target date has now been set for the Mission – Monday, 8 October.
The mission team has been working tirelessly on capsule repairs since the 25th July, when Baumgartner successfully completed a test jump from 97,145.7 feet / 29,610 meters. Reaching a top speed of 536.8 mph / 864 kmh, the 43-year-old Austrian's freefall was executed flawlessly but his ascent capsule suffered a hard landing on rough terrain. The vessel was shipped back to Sage Cheshire Aerospace in California where it underwent emergency repairs to ensure a Mission attempt could take place this year, before the Autumn weather deteriorates over the launch site in New Mexico.
The smallest leak or faulty connection could endanger the mission, so on 24 September the team again "man-rated" the capsule as safe for human flight with an altitude chamber simulation, a process previously performed in November 2011. The test, conducted at Brooks City-Base in San Antonio, Texas, simulates the near vacuum conditions that the capsule will experience during its ascent to the stratosphere.
The capsule serves as a life-support system for Baumgartner in one of the most hostile environments man has ever experienced. The test verified that all capsule seals, oxygen and other life-support systems, electronics, and camera systems functioned as intended. The re-certified capsule will now be shipped to Roswell to prepare it for the final launch attempt.
Technical Project Director Art Thompson announced a target launch date of 8 October, 2012, while acknowledging that less-than-perfect weather could delay the mission for one or even several days. Mission meteorologist Don Day confirmed that the weather window remains good throughout the first half of October, reiterating, "Early fall in New Mexico is one of the best times of the year to launch stratospheric balloons."