Beth Hart 'Bang Bang Boom Boom'
     13 Aug 12
New Album Released: 8 October 2012
London HMV Forum confirmed: 16 Nov 2012
London, Monday 6 August 2012: Mascot Label Group is delighted to announce the return of one of the most unique and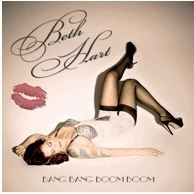 heart-wrenching voices of the 21st century: Beth Hart. On 8 October 2012, Beth Hart will release her new album 'Bang Bang Boom Boom', the follow-up to 'Don't Explain', her stunning 2011 collaboration with Joe Bonamassa.
Featuring eleven stunning blues, jazz and soul influenced tracks, penned by Beth Hart, 'Bang Bang Boom Boom' is a life-changing record for the West Coast born singer, songwriter and musician. All of her life experiences, both positive and negative have come together for this career defining album.
The eleven original songs recorded live by Kevin Shirley, on this new collection give Beth's eclectic influences free rein, spinning from Spirit Of God's brassy gospel to the sparse Thru The Window Of My Mind, with her first-ever piano solo on Swing My Thing Back Around, and an impossibly tender vocal on the Billie Holiday-flavoured Baddest Blues.
But it is life, and in particular Beth's own life that has made this record. The former American talent show winner spiralled out of control, failing to cope with instantaneous attention and pressure. A heady concoction of drugs, depression and her unmedicated bipolar disorder led her psychologist to proclaim: "you can't handle this business." "It's a serious warning for anyone trying to get a jump start in this business," said Beth.
But with a West Coast drawl that could distil whisky at fifty paces, and fans including Jeff Beck and Slash, this woman of rock has finally emerged a lady… For Beth, the track 'Everything Must Change' explains it all: "I have this fascination with the old adage that it's darkest before dawn. It implies so much hope. That song is an important one to me on the record. We all go through ups and downs, but what always brought me back was that I've been surrounded by so much love."
Full Tracklisting:
Baddest Blues
Bang Bang Boom Boom
Better Man
Caught Out In The Rain
Swing My Thing Back Around
With You Everyday
Thru The Window Of My Mind
Spirit Of God
There In Your Heart
The Ugliest House On The Block
Everything Must Change
With Beth's attention fully focused on the UK, and following the massive success of 'Don't Explain', she has been confirmed to headline London's HMV Forum on 16 November 2012. Tickets are on sale now via www.alt-tickets.co.uk/
A full UK tour will follow in early 2013.
'Bang Bang Boom Boom' is released via Mascot Records on 8 October 2012.