Stars of the brand new film "Fast Girls"
talk about their experiences of making the film.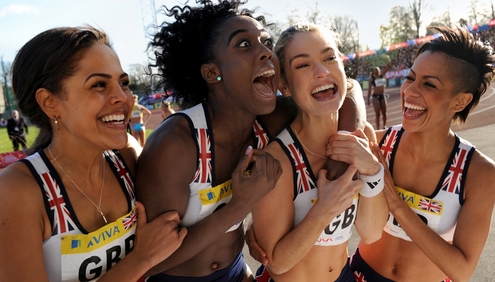 Members of the on screen 4 x 100m team in the film "Fast Girls", were recently put through their paces by current track star and Olympic gold medallist Christine Ohuruogu and British Olympic sprinter Shani Anderson, recapping what was taught to prepare for the movie and accurately portray a professional 4 x 100m team in Fast Girls.
The film tracks the roller-coaster journey of a British female sprint relay team and stars a trio of Britain's hottest young stars: Lenora Crichlow (Being Human), Lily James (Clash of the Titans 2) and Bradley James (Merlin).
Directed by award-winning young filmmaker Regan Hall (3 Hours) and produced by Damian Jones (The Iron Lady, Sex & Drugs & Rock & Roll), Fast Girls is co-scripted by Noel Clarke (Adulthood, Kidulthood), Jay Basu and Roy Williams. Clarke also heads the strong supporting cast line-up of, Lorraine Burroughs (Dr Who), BAFTA nominee Phil Davis (Vera Drake), Rupert Graves (V For Vendetta) and newcomers Lashana Lynch, Dominique Tipper and Hannah Frankson.
When sassy streetwise Shania (Lenora Crichlow) meets ambitious, middle class Lisa (Lily James), their two worlds collide on the athletics track with explosive results. As the Fast Girls strive to qualify for a major world athletics championship, they battle adversity and rivalry on their dramatic, heart-warming and inspirational journey.