Sporting heroes Colin Jackson and Kriss Akabusi wowed an unsuspecting audience at Kings Cross St Pancras today as they took on the Cadbury Spots v Stripes "Are You The One?" challenge in front of hundreds of passers by.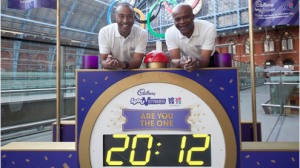 The legendary athletes were as competitive as ever they battled it out, testing their nerves and concentration as they had to beat the clock by pressing a buzzer exactly at 20:12 seconds without looking at the clock.
53,886 games have been played so far around Britain, with the most taking place in a day (5,001), in view of the Olympic Stadium in Stratford's Westfield Shopping Centre. 44 pairs of tickets have been won so far across the games. The lucky winners will be cheering the British team on in a whole host of events including Basketball, Football, Taekwondo, Hockey, Water Polo, Badminton, Archery and Beach Volleyball.