David Beckham To Join Muhammad Ali
To Launch Youth Leadership Award
23 Jul 12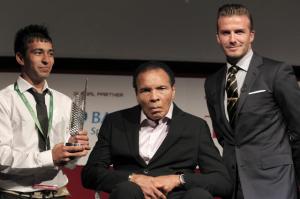 Two Of The Most Iconic And Beloved Sportsmen Of All Time, David Beckham And Muhammad Ali, Will Present The Inaugural Generation Ali Beyond Sport Award At The Beyond Sport Summit Reception In London On Tuesday Evening, Kicking Off What Promises To Be The Most Influential 24 Hours In The History Of Sport For Development.
The Muhammad Ali Centre, Co-Founded By Muhammad Ali And His Wife Lonnie Ali, Has Come Together With Beyond Sport To Launch The Award, Designed To Recognise And Celebrate A Young Person Who Has Embodied The Essence Of Leadership And Inspiration Through Sport. 'Service', 'Leadership', And 'Action' Are The Three Key Qualities Sought And Identified In The Winner, Who Has Attained Them Through A Journey That Has Gone Beyond Sport.
"Muhammad Ali Is One Of The Most Inspirational Sportsmen Of All Time," Said Beckham. "He Is A Global Icon, And He Has Touched So Many Lives. It Is A True Honour To Join With Him To Present The Generation Ali Beyond Sport Award To One Of This Incredible Group Of Young People."
Lonnie Ali Added: "My Husband's Whole Life Has Been An Embodiment Of The Struggle For Survival, Change And Justice, And He Has Used The Power Of Sport To Change Lives And Attitudes Around The World. There Are Echoes Of Muhammad's Life In Each Of The Stories Of The Youngsters Shortlisted For This Award And We Look Forward To Playing A Part In Those Individual Stories."
The Shortlist For The Award, Which In 2012 Will Recognise A Youth Resident In The Uk As The Host Country Of This Year's Beyond Sport Summit, Includes A Former Gang Member And Ex-Convict Now Coaching Football; A Young Man Who Lost His Family In The Conflict In Afghanistan And Now Coaches And Translates For Other Refugees; A Young Woman Who Works To Help Muslim Girls Find A Sport They Enjoy Participating In; And A Former Gang Member Who Has Escaped A Long History Of Family Gang Membership In His Home Town To Become A Successful Coach.
Nick Keller, The Founder Of Beyond Sport, Said: "The Beyond Sport Awards Recognise Incredible Achievements Against The Odds, Where The Power Of Sport Has Transformed Lives. The Young People Nominated Are The Most Eloquent Voice And Proof Of Sport's Power To Unite And Uplift."
Beyond Sport Is A Global Initiative That Seeks To Celebrate And Support Any Organisation Or Individual With The Goal To Drive Positive Social Change Through Sport. Its Global Partners Are Barclays Spaces For Sports, Time And Unicef.
For More Information On Beyond Sport And The Beyond Sport Summit & Awards Visit Www.Beyondsport.Org