Discover The Way New Houses Help Combat Climate Change
     08 Mar 12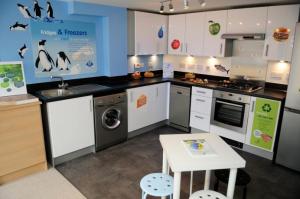 As part of the national campaign 'Climate Week', Barratt Homes is inviting the people of Nuneaton and Coventry to find out exactly how they design environmentally-friendly and sustainable new homes at their Bluebell development's innovative 'Discovery House'.
The first of its kind, the Discovery House looks like a normal home until you step inside. Designed as an educational and interactive tool, visitors young and old can learn how Barratt Homes design their new houses to be as energy efficient as possible.
Featuring colourful and informative display boards, some walls are cut away so you can see exactly what's going on behind them – exhibiting good levels of insulation, quality construction and high efficiency heating systems.
As a result, Barratt's new homes are more energy efficient than comparable new build homes, as well as easily out-performing the average second hand home. This means that residents at Bluebell could save hundreds of pounds on their annual energy bills each year, as well as being kinder to the planet.
The rooms at the Discovery House are devised to make visitors aware of how to keep their energy usage down to a minimum, including a sustainability and a technology room. For example, you will find information and tips on what types of energy efficient household appliances you should look out for to reduce your energy output.
The garden is no exception, as it boasts a flourishing organic vegetable patch, a bird bath to encourage wildlife and a selection of bee and butterfly friendly plants to support the development's bee and butterfly population. It also displays interesting ways to conserve water.
Steve Barton, Sales Manager for Barratt Mercia comments, "We're very supportive of the Climate Week campaign and we thought it would make sense for us to showcase the steps Barratt have taken to reduce our own and our purchasers carbon footprint.
"We're proud of the way we build sustainable homes and we hope that by opening the doors at Bluebell's Discovery House, it will raise awareness and spur people on to continue to consider the environment."
Bluebell is part of a new vision for Camp Hill, Nuneaton, which has seen the area regenerated into a thriving community. The landmark development will consist of 814 modern properties alongside a new high street, Whittleford Park and other green open spaces.
Bluebell features a range of one-, two-, three- and four-bedroom homes priced from £70,000. For more information please contact the sales office on 02476 399520 open daily from 10am to 5pm
Alternatively, please call the sales hotline on 0844 811 9988  open seven days a week from 8am to 9pm or log on to www.bluebellnuneaton.co.uk orwww.barratthomes.co.uk
This Barratt Mercia was confirmed as meriting the maximum five star official rating from the Home Builders Federation (HBF) for the third year running. The news was announced after more than 4,000 new home buyers across the country took part in this year's HBF customer satisfaction survey.