The French male basketball team,
including star player Tony Parker,
are met by fans as they arrive by Eurostar
into St Pancras ahead of London 2012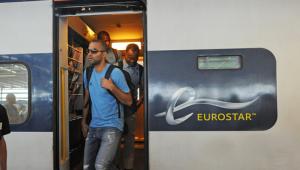 Wednesday 25th July, London – As the French male basketball team arrive into London by Eurostar just two days ahead of the Games, France's Point Guard and ex husband of Eva Longoria, Tony Parker, made his way off the train ready to face rival teams, including USA, for the gold medal.
France is currently twelth in the FIBA (Federation of International Basketball Association) rankings, but Parker is seen as a huge threat by fellow NBA players and all eyes will be on him during France vs. USA this Sunday, 29th July.
The French team were also joined by the Belgian and Australian male basketball teams on their journey into London this morning.