Gethin Jones Receives The Olympic Flame in Merthyr Tydfil
on Day 8 of The Olympic Torch Relay
Former Blue Peter presenter and new Daybreak reporter
helps the flame on its route from Cardiff to Swansea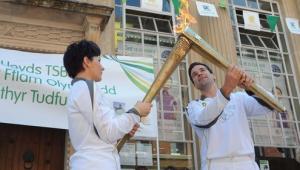 SATURDAY 26th MAY 2012 – MERTHYR TYDFIL, WALES: The Olympic Torch arrived in Merthyr Tydfil today as Presenting Partner Lloyds TSB offered TV presenter Gethin Jones the once-in-a-lifetime opportunity to run with the Olympic Torch.
Former Blue Peter presenter Gethin, who has recently joined ITV's Daybreak, received the torch at the branch in the town centre, which at over 200 years old, is one of the bank's oldest branches still in everyday operation.
Gethin was at the branch early on Saturday morning where the Torch made a short pit- stop, before continuing on its journey through Wales, coming to rest at the evening celebration site in Swansea on Saturday evening.