Giuliano Fujiwara Presents
Its New Head Designer
     04 Apr 12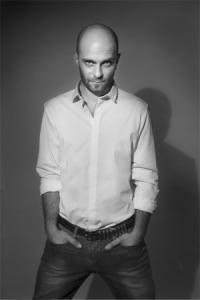 Sergio Daricello – who has been working for the past seven years as head designer for the men's lines of Versus and Versace Jeans and was previously employed by Dolce&Gabbana and Etro – will supervise both the men's and women's lines of giuliano Fujiwara starting with the Spring/Summer 2013 collections. The Palermo-born Sicilian moved to Milan in 1998 and graduated Cum Laude with a degree in Fashion Design from Istituto Marangoni. Sergio is an eclectic artist who loves all aspects of aesthetics: he is also a painter and graphic designer. In his works, he combines his contemporary touch with historical references, creating a fusion between past and present.
The giuliano Fujiwara brand made its debut in Milan in 1986. Yoshiaki Fujiwara, the mastermind behind the brand, and his new concept of Minimalism were a huge influence not only on Italian fashion but also on the international fashion scene. Wabi-sabi (the use of shadow as the "dark side" of evident beauty and a new seemingly off-balance silhouette) is the aesthetic influencing the creations of giuliano Fujiwara that represent present and future through the use of traditional Italian sartorial technology.
In May 2011, the giuliano Fujiwara maison was acquired by the Taiwan-based Breeze Group, which does business in several different areas and owns Breeze Center, a shopping mall in Taipei that has revolutionized the shopping experience for the Taiwanese.