Holiday Shoes By Oliveira
    13 Aug 12
Fresh, fun and fabulously unique, Galle (£20 www.oliveira.uk.com) is the perfect shoe for summer days and balmy nights.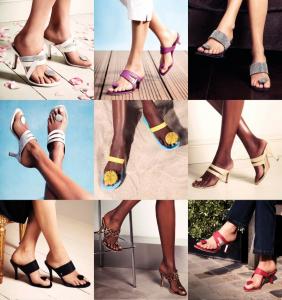 The soft, small-wedged sole is teamed with a cute and comfy pom-pom toe post, offering an eye-catching alternative to traditional flip-flops or sandals. Available in three vibrant colour combinations, this season's dilemma is which shoes to choose!
Vibrant, versatile and dainty with 2½" kitten heels, Caparica (£75 www.oliveira.uk.com) offers a fresh twist on summer sandals and looks simply amazing with dresses, cigarette pants or jeans. Available in four attractive colours, each individual pair is handmade in soft leather to ensure comfort and style wherever they take you this season.
Amora (£90 www.oliveira.uk.com) fits summer occasions like a satin slipper. This shoe of sheer beauty, with silky cream 3¾" heels, shimmering strap detail and a twinkling diamante toe post, is handmade for sublime comfort, and are so light and dainty that it's easy to forget they are on.
Lisboa (£70 www.oliveira.uk.com) is a design that dares to be different, in a safari leopard print that exudes kittenish allure.
After dark, step into the spotlight with Colombo (£90 www.oliveira.uk.com), stunning 3¾" heels that add show-stopping sparkle to holiday eveningwear.
You can choose from Maria's full collection of handmade 'toe post' shoes on the Oliveira website, www.oliveira.uk.com