Louis Vuitton opens its first Maison in China in Shanghai
at Plaza 66, its sixteenth worldwide. The Louis Vuitton Express
will also be welcomed, with an elegant fashion show
on the famous Bund in Shanghai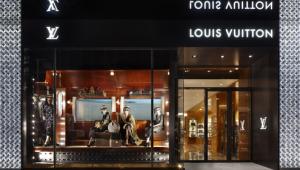 Wednesday 18th July 2012: The grand opening of the first Louis Vuitton Maison in Shanghai at Plaza 66 will be the 16th Maison worldwide and will further bring together the style and elegance of Louis Vuitton under one roof.
Specially designed by architect Peter Marino, new design elements and custom- made furniture has been combined to create a unique and innovative Louis Vuitton experience.
Formed over four floors, the Louis Vuitton Maison will house, leather goods, ready-to-wear for women and men, luggage, watches, jewellery, and rare and exceptional products. Specially commissioned artworks by Chinese and international contemporary artists will be seen throughout the Maison highlighting Louis Vuitton's association with discovery.
Thursday 19th July 2012: On July 19th, the Louis Vuitton Express will come to a halt on the famous Bund in Shanghai. When its doors open, elegant models will alight from refined carriages, clad in elongated A-line silhouettes of richly layered and jewel-embellished clothing, each accompanied by exquisite suitcases, portmanteaux and handbags in a celebration of the House's history, of elegance, creativity and of the Art of Travel