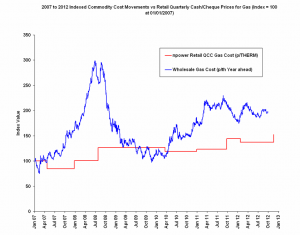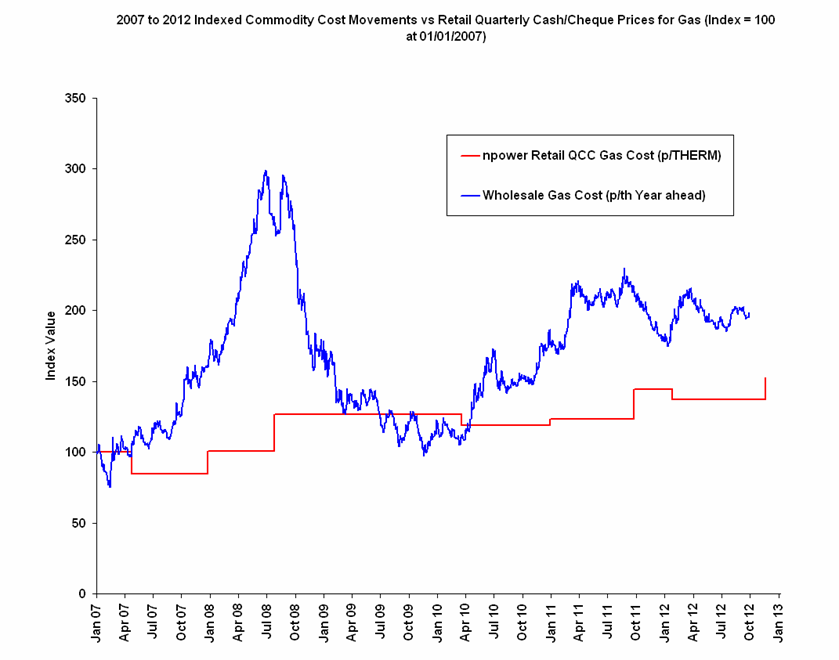 Paul Massara, chief commercial officer said: "There is never a good time to increase energy bills, particularly when so many people are working hard to make ends meet. But the costs of new statutory schemes, increases in distribution charges and the price of gas for the coming winter are all being driven up by external factors, for example government policy. Although we have managed to smooth out the worst fluctuations and protect our customers for as long as we can, we are now having to pass on some of these costs."
Prices will increase on average by 8.8% for gas and 9.1% for electricity* on Monday 26th November. Price changes have been carefully apportioned across elements of our tariffs to move closer to the simpler tariffs proposed by Ofgem.
Paul Massara continued: "We support moves to reduce CO2 emissions but new government schemes will mean that energy bills will rise. We must make sure that they provide value for money and that people understand how they will be affected. We understand the impact of rising prices and we are committed to helping customers reduce the energy they use and choosing the best tariff for their needs."
(ENDS)
*Based on Ofgem standard annual consumption of 16,500kWh gas and 3,300kWh electricity. Standard single fuel prices averaged across payment methods and averaged across Britain and include VAT.
Note to editors:
Residential Pricing
| | | | | | | |
| --- | --- | --- | --- | --- | --- | --- |
| Payment Method | Old Dual Fuel Bill | New Dual Fuel Bill | % Difference | £ p.a. | £ per week | £ per day |
| Monthly Direct Debit | £1149 | £1,258 | 9.4% | £108 | £2.08 | 30p |
| Receipt of Bill | £1243 | £1,352 | 8.7% | £109 | £2.09 | 30p |
| Pay As You Go | £1249 | £1,358 | 8.7% | £109 | £2.08 | 30p |
| Average | £1213 | £1,322 | 8.9% | £109 | £2.08 | 30p |
Changes to Standard Dual Fuel Prices based on Ofgem standard annual consumption of 16,500kWh gas and 3,300kWh electricity and averaged across Britain inc VAT.
Q When did npower last change residential prices?
A We reduced standard gas prices by 5% on 1 February this year. We also waived cancellation fees for npower customers on fixed tariffs.
Q Why are prices going up?
A There are three main reasons why customers' energy bills are rising, which are:
· Implementing government schemes such as CERT/CESP/ECO. Costs for this area will be approximately double in 2013 when compared to 2011.
· The cost of delivering energy to customers' homes which has increased by 10% since 2011.
· Higher average wholesale energy prices which have increased by approximately 5% since last winter. The environmental portion of the bill (driven by the Renewables Obligation) has also increased by 25%.
(Carbon Emissions Reduction Scheme / Community Energy Savings Programme / Energy Company Obligation / Renewables Obligation / Feed-In-Tariff)
Q Why is your increase larger than British Gas?
A Our prices are starting from a lower point than those of British Gas. We are waiting for the full detail of the British Gas price increase but Initial calculations show that we will still be cheaper than British Gas for Monthly Direct Debit Dual fuel based on notional consumption of 16.500 kWhs gas and 3,300 kWhs electricity.
Helping Customers

Q What are you doing to help customers reduce the impact of this increase?
A Until 31st December 2012 npower is offering free loft and cavity wall insulation to all its customers, subject to a survey. For those vulnerable customers who are classed as super priority group we will also include a £250 voucher and a package of energy efficiency products. (Terms, exclusions and limitations apply on these offers). This will not only offset this increase but will make an ongoing real difference to future energy bills. We recognise that more and more families are finding it difficult to manage their finances and may be in debt. We have set aside £600k to help fund additional professional debt and financial advice. We will be talking to specialist agencies to see how best these funds can be deployed because we know the problem is wider than just the price of energy.
Q There are millions of homes without proper loft or cavity wall insulation, what are you doing about it?
A Since April 2008, the start of the Carbon Emissions Reduction Target (CERT), npower has provided and installed over 1.3 million insulation measures. Broken down, that's 850,000 loft and 450,000 cavity wall insulation measures – using enough loft insulation to go around the world seven times. In fact every working hour of every working day, npower teams, or their agents, install 175 insulation projects. Until 31st December 2012 npower is offering free loft and cavity wall insulation to all its customers, subject to a survey. (Terms exclusions and limitations apply).
Q Are you providing the Warm Home Discount to customers?
A Yes. We are offering the Warm Home Discount to customers who are eligible. The WHD will provide a £130 flat rebate from npower. The rebate is normally paid during the winter months. Q What number should I call to sign-up for the WHD?A Phone 0800 980 5525, more details are also available on http://www.npower.com/spreading_warmth/content/homepage/index.htm
Q How can customers get help with reducing their bills?
A There are many ways in which we can help customers reduce their bills. This can be as simple as changing the way they pay for their energy or through energy efficiency. We have a freephone hotline 0800 02 22 20.
Q What are your top tips for reducing my household energy bills?
A Check the way you pay and the type of tariff you are on. We may be able to suggest alternatives.
We offer heavily subsidised insulation, until Christmas this may even be free.
Ensure your boiler is regularly serviced. We can help with this too!
Pricing Details

Q What are your new gas and electricity prices?
A (Average national standard prices – based on Ofgem Standard annual consumption 16,500kwh gas and 3,300kwh electricity averaged across Britain inc VAT)
| | | | |
| --- | --- | --- | --- |
| | Old £ | New £ | Change £ |
| Gas (MDD) | £687 | £751 | £63 |
| Gas (ROB) | £740 | £803 | £63 |
| Gas (PAYG) | £735 | £798 | £63 |
| Elec (MDD) | £471 | £517 | £45 |
| Elec (ROB) | £513 | £559 | £45 |
| Elec (PAYG) | £513 | £559 | £45 |
| DF (MDD) | £1149 | £1257 | £108 |
| DF (ROB) | £1243 | £1352 | £108 |
| DF (PAYG) | £1249 | £1357 | £108 |
MDD – Monthly Direct Debit / ROB – Receipt of Bill / PAYG – Pay as You Go
Q By how much have you increased your standard residential prices?
A The increase will come into effect on Monday 26th November 2012. The average increase for monthly direct debit dual fuel prices is 9.4%. The average increase on single fuel standard residential tariffs is 8.8% for gas and 9.1% for electricity.
Q Why have you not applied the same percentage increase across all your primary and secondary rates?
A This is part of a plan to move all standard tariffs to a simpler format in line with Ofgem requirements.
Q How many customers will this impact?
A Approximately 3 million customers.
Q How many customers are not impacted?
A Approximately 500,000 customer accounts, many of which are Go Fix products will not be increased.
Q But wholesale energy prices are falling aren't they?
A Wholesale energy prices on the 'Spot Market' may go up and down, however energy suppliers buy in advance. npower has already bought the majority of the gas and electricity it needs for customers to cover the coming winter.
Q How can you justify this increase? Haven't your profits increased?
A Unlike other suppliers our half-year profits were 15% lower compared to the same time in the previous year. Despite this, RWE continues to invest in Great Britain. Over the past 4 years we have invested £3.4bn helping to keep the lights on.
Q Suppliers are often accused of not being transparent when price rises occur – Are they?
A We always give full details to customers and the media alike.
Q You claim the market is competitive but you all still increase prices at the same time?
A All suppliers face the same pressures from the wholesale energy market and increasing government and regulatory costs, so there is a natural tendency for prices to move at the same time. When Tesco puts up the price of a loaf of bread by 5p no-one is surprised if Sainsbury's do the same because they are subject to the same costs.
Q Will juice customers have their prices increased too?
A Yes – npower juice is sold at the same price as standard electricity.
Q Why are you quick to increase prices and slow to reduce them?
A There are many myths about energy pricing, including the entirely unproven suggestion that prices rise like rockets in response to increasing wholesale prices, and fall like feathers when they drop. We strongly dispute this. Independent analysts examined the claims made and found the evidence unconvincing. The graph attached shows the changes in gas wholesale prices based on one year ahead costs which is a reasonable approximation of how energy companies buy energy. It also shows npower retail gas prices since 2007.
Investing for the future

• Nearly £1 billion invested by RWE in UK in 2011, more than £150 per npower customer account.
• Total UK investment by RWE £3,419m in last three years, compared to £2,045m npower profit in last six years.
• £650m Staythorpe gas-fired power station (CCGT) officially opened in 2011.
• £1,000m Pembroke gas-fired power station (CCGT) officially opened in September 2012.
• RWE is the UK leader in renewable energy. The recent Bloomberg New Energy Finance Report on renewable energy investment in the UK (commissioned by Greenpeace) ranked RWE as having invested more into UK renewables than any other company since 2006, and as having the largest installed renewable capacity in the UK.
• The 2011 Ernst & Young report found that the energy sector contributes £28,000m to the UK economy each year and more to regional economies than almost any other sector.