London 2012 Paralympic Games ambassador
celebrates the UK's biggest school sport event
at the Transport Stadium, King's Heath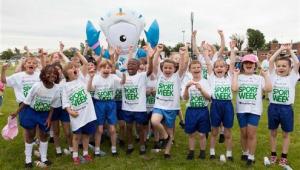 Today, Our Lady of Lourdes School, Birmingham "staged their own Games" as they celebrated Day 2 of Lloyds TSB National School Sport Week 2012 with Paralympic Bronze Medallist Ade Adepitan.
More than 300 pupils from the school experienced a range of Olympic and Paralympic sports including handball, seated volleyball and boccia, as well as traditional school activities such as the sack race. Taking place at the Transport Stadium in King's Heath, the day was an opportunity for local schoolchildren to take part in a range of sports they previously hadn't experienced and the day was expertly hosted by Ade.
Lloyds TSB National School Sport Week (25 – 29 June), partnership with the Youth Sport Trust, uses the excitement of the London 2012 Games to inspire young people to do more sport and this year over four million pupils are expected to take part. Schools across the country will be 'staging their own Games' – holding opening and closing ceremonies, Torch Relays and inter and intra school competitions – to celebrate London 2012 in their community.