PUMA® Launches Its 100 Metre Shop, The First Tumblr Pop-Up Sales Site
and A Stylish Blend Of Creative Content, Social Discovery And Shopping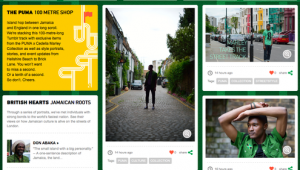 Innovative Online Destination Fuses Brand's Cedella Marley Collection with a Celebration of Jamaican Culture and London Street Savvy
Boston, Massachusetts – (27 July 2012)–  SportLifestyle brand PUMA® announced today it will launch a revolutionary online experience on July 27, The PUMA 100 Metre Shop, inspired by Jamaican Track & Field's greatest moments in time. The new Tumblr site fuses Jamaican and British cultures to produce original content from on-the-ground contributors in London and Kingston. It's packed with portraits, stories, and event updates as well as hand-picked items from the highly anticipated Cedella Marley Collection.
"It's amazing for PUMA to have the opportunity to really bring to life in a socially relevant way two incredible cultures that share common values with the joyous, celebratory spirit of the brand. The PUMA 100 Meter Shop will be a totally different and highly engaging destination for people interested in fashion, culture, and entertainment happening around London and Kingston this summer," said Antonio Bertone, Chief Marketing Officer for PUMA.  "We are incredibly excited to be the first global brand to launch a totally breakthrough Tumblr site that is truly the fusion of content contribution, social discovery and e-commerce."
OPENING HOURS
The Tumblr pop-up shop will go live beginning July 27th and will feature a mix of content in diverse formats including video, interviews, articles, photos and more.  It will be updated daily and available in two languages, Japanese and English, and in three regions, Japan, Europe, and the USA.  Traffic will be driven through PUMA's social channels and partnerships with The Fancy, Sypply and Pinterest.  The site is designed to be live for 12 months and will be reskinned to support new brand initiatives hailing from the Sportlifestyle company.
In addition to original content and PUMA gear, visitors will have access to live-streaming activities and happenings from the brand's hub in London this summer, The PUMA YARD, including interviews with popular musicians performing at the YARD such as Gyptian, Groove Armada and Professor Green.
A FASHION FIRST
PUMA partnered with fashion designer Cedella Marley, daughter of late Reggae legend Bob Marley, to create the podium, on-track and ceremony wear for the Jamaican Track & Field team competing in London.  The PUMA 100 Metre Shop will showcase select items from the collections; and for the first time on Tumblr, The PUMA 100 Metre Shop will link to an e-commerce site, Shop.PUMA.com, where items are available for purchase.
Marley, who embodies the fun, relaxed nature synonymous with Jamaica, injects an authenticity to the PUMA collection, bringing her fashion–forward sensibility, the country's bold colors of green, gold and black and Jamaican heritage to the styles.
The most anticipated pieces from the collection include two items from ceremony wear:  the men's "Buffalo Soldier button down," a short-sleeve button-front army green shirt with black accents; and the women's military-influenced "Satisfy My Soul" black fitted jacket with green belt.  The women's fitted jacket features an embroidered Jamaican flag with the phrase "Good Vibrations" on the inside of the collar, while a Jamaican green stripe accents the sleeve for some added flair.
The collection will be available at The PUMA 100 Metre Shop, select retailers in the United States, Japan, United Kingdom and Continental Europe as well as at the PUMA Quad, situated within the PUMA YARD in part of the Old Truman Brewery on Brick Lane in Shoreditch, East London.
THE JOY OF JAMAICA
Cedella Marley will showcase her designs at the pop-up shop and she will also share her pride of heritage.  Visitors can read about her background and the inspiration for the collection, which pulls from the rich cultural heritage in Jamaica. In addition, PUMA will spotlight Jamaican personalities who symbolize the joy and cultural pride of the Caribbean island.  PUMA will celebrate community and neighborhood icons like Don Abaka, aka "Mayor of Brixton" and the epicentre of his social life as local hairdresser in the community; Savannah a 20-year old stylist, who calls Jamaica, New York and London home, but credits her Jamaican heritage for her success; and Ms. Brown, a grandmother who warmly opens her London home to share an intimate look at her life, which has seamlessly brought together her deep Jamaican roots and the love of the British Monarchy. These in depth portraits provide a glimpse into their prideful Jamaican heritage and how it has contributed to their place in London culture.