Sainsbury's Announces Jubilee Family Festival
     17 Feb 12
SAINSBURY'S ANNOUNCES JUBILEE FAMILY FESTIVAL
Saturday 2 June, Sunday 3 June 2012
Hyde Park
Daily finale with newly created 70-minute
Disney spectacular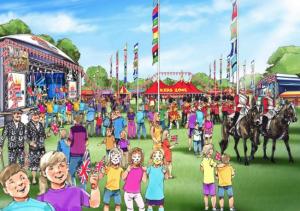 London, Friday 17 February 2012: Sainsbury's is delighted to announce details of 'The Jubilee Family Festival Presented by Sainsbury's', which will take place in Hyde Park, one of London's eight Royal Parks, on Saturday 2 June and Sunday 3 June 2012 from 10.30am – 7pm daily, with a capacity for 50,000 ticket holders on each day. The Festival, with an action-packed and imaginative fun-filled programme, will provide a fantastic way for families to join in the Jubilee Celebrations during this very special weekend. World famous promoter Harvey Goldsmith CBE, is organising the Festival on behalf of Sainsbury's and the festival is being hosted by The Royal Parks.
The Jubilee Family Festival will be a once in a lifetime experience for the whole family to enjoy. Taking place in Hyde Park over two full days, visitors will be treated to some of the nation's best live music and entertainment. The finale of each day will be an unforgettable, 70-minute Disney concert produced specially to mark the Jubilee celebrations, featuring beloved Disney songs and characters. Throughout the weekend there will be a full programme of activities including favourite kids television characters, celebrity performers and dancers, equestrian events and death-defying motorcycle displays, Commonwealth-inspired acts from around the globe and of course great food and drink from Sainsbury's. Sainsbury's has also teamed up with some of Britain's best-loved brands who will be an integral part of the family fun and entertainment.
Enjoying the Jubilee celebrations to the full, visitors to the festival will be able to view the BBC live feed, on giant screens, of all of the Diamond Jubilee events on 2 June and 3 June.
Boris Johnson, the Mayor of London, said: "In an extraordinary year for the capital, the Diamond Jubilee Weekend will be an unforgettable national celebration, bringing visitors and tourists from across the country, the Commonwealth and the world. The Jubilee Family Festival will help make this weekend a truly memorable one for anyone wanting to be at the heart of the action."
Inspired by the great British tradition of village fetes and street parties, The Festival will be themed around 60 years of great British heritage and will include influences from across the Commonwealth.
Justin King, Sainsbury's CEO, said: "We are delighted to stage this wonderful festival, which will reflect many elements of The Queen's 60 glorious years as monarch and head of the Commonwealth.  We aim to provide a fun-filled, family-focussed festival, in one of London's most beautiful and iconic Royal Parks."
Harvey Goldsmith, said: "This will be the largest family festival London has ever seen.  With a huge programme of incredible entertainment and activities for everyone to enjoy, it will make for a memorable experience for visitors of all ages.  Families can come to the Jubilee Family Festival knowing that, in a very lively London, it will be a family-friendly environment in which there will be fun for all."
Mike Stagg, General Manager, Retail, The Walt Disney Company UK & Ireland added: "Disney is delighted to play such an important part in what promises to be a fantastic event. In addition to hosting a Disney area in the main festival, we will be staging a finale concert featuring some of the most beloved Disney music and characters, which is sure to enchant the whole family."
Sainsbury's is working closely with The Royal Parks and Colin Buttery Acting CEO, said: "The Royal Parks is delighted to be hosting the Jubilee Family Festival – it's very exciting to have so many people coming to the festival in Hyde Park. To mark the Diamond Jubilee, we will also be hosting events in St James's Park and The Mall as part of what promises to be a series of unforgettable celebrations in honour of this occasion, the 60th year of Her Majesty's reign."
Ticket Availability:
Tickets are available from 9:00am on Friday 24 February from Ticketmaster or Seetickets:
Online: www.ticketmaster.co.uk
From the UK: 0844 847 1661
From outside the UK: +44 161 385 3211
Online: www.seetickets.com
From the UK: 0844 858 6760
From outside the UK: +44 1142 249 784
No booking fee applies.
Ticket Prices:
Tickets: £20
Under16's: £12.50
Family Ticket (2 Adults and 2 Children): £52
Children under 3: Free
Ticket Ballot:
From 28 March, millions of Sainsbury's customers will be able to enter a daily ballot for free family tickets.  Customers who spend £60 in store will receive a coupon at the till with a code to enter into the Sainsbury's website. Within 24 hours families will be notified if they have won a family ticket.
Entertainment Zones:
The Jubilee Family Festival has the following entertainment zones:
Main Stage featuring a specially created Disney concert and a stunning line up of showbiz performances fit for a Queen. Two giant screens will flank the main stage ensuring that everyone gets a great view.
The Kids Zone will feature a series of live and interactive stage shows from some of the UK's most well-loved children's characters including Thomas the Tank Engine, Fireman Sam, Bob The Builder, Angelina Ballerina and brand new kids favourite Mike the Knight.
Disney Zone featuring themed activities, the life-size Lightning McQueen, Mater and Finn McMissile from the Disney/Pixar blockbuster Cars 2, and much more.
The Parade Ground featuring all the British pomp and ceremony From the White Helmet Motorcycle Display Team to the Queen's Cavalry to marching bands.
The Commonwealth countries will be represented throughout the weekend as the best cultural entertainment from around the Commonwealth entertain – from Bollywood and New Zealand Maori Haka Dancers to Harambee African Drummers.
Roaming the Festival will be English Gentleman on stilts, Singing Tea Ladies, Pearly Kings and Queens, Marching Bands and Face Painters.
Great British food will be plentiful, serving up pies, roasts, pastries, fish and chips, cream teas, jellied eels and the traditional British breakfast.
Over 35 of Britain's favourite brands will be providing additional fun and entertainment with competitions, games and displays.  Many great British brands will have stalls at the Festival, both selling and exhibiting their products and produce.
More artists and entertainment will be announced in the coming weeks.