377 community projects set to benefit from the Inspired Facilities Olympic legacy fund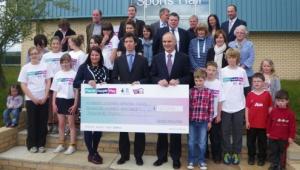 With the London 2012 Olympic Games just 10 days away, 377 community sports groups are celebrating after securing a share of almost £20 million of Olympic legacy funding.
The National Lottery investment comes from the Inspired Facilities Fund – part of Sport England's Places People Play legacy programme that is bringing the magic of London 2012 into communities across England.
The investments announced today will breathe new life into tired facilities and grants have also been offered to convert existing buildings into venues suitable for grassroots sport. Places People Play is being delivered by Sport England, working in partnership with the British Olympic Association (BOA) and the British Paralympic Association (BPA) with the backing of LOCOG
The progress being made in grassroots sport has been evidenced by Sport England's Active People Survey, which has shown an increase in the number of adults taking part in sport. The report has shown that the total number of adults in England taking part in sport at least once a week has reached 15.28 million, an increase of 1.3 million since 2005/6 when London won the right to host the 2012 Games.
Sport England has been at the centre of the drive to deliver an Olympic legacy of increased participation in sport, with over 80,000 young people getting into sport through Sportivate, over 16,500 people being inspired by the Olympics and Paralympics to become a Sport Maker and more than 100,000 signing up to do a sporting challenge for charity through Gold Challenge