Sprinter Christian Malcolm Talks About His Reactions To The Team GB Selection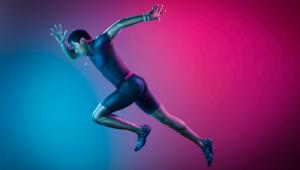 Having competed in three Olympic Games to date, the weekend's Olympic Trials and UK Championships in Birmingham sees 33 year old Christian qualify for his last chance at an Olympic meda
Having started running at an early age, at only 14 years old Christian won Silver at the Common Wealth Games; his time setting a new European Junior and Welsh Senior record. The same year saw Christian win the title of World Junior Athlete of the Year and take the Gold medal at the World Junior Championships.
Christian fast became one of the UK's most successful athletes in the 200m sprint. As he aims to cement his success with an Olympic medal, the athlete attributes his current success to a core group of family and friends who have helped him achieve his goals.
Research commissioned by Links of London shows that Christian is not alone in his thinking, with 91% of UK adults also looking to family and friends rather than famous people when finding role models.
Christian is supporting Links of London's 'Circle of 5' campaign, which reveals we rely on a core group of 5 people in order to be successful.
Christian commented: "There is five key people in my life that have helped me get to where I am today. In particular, looking back, we never had a car so my mother has been an inspiration having to walk me an hour to and from training every day."
Dr Rob Yeung is a psychologist and researcher on success. Dr Yeung believes that the role each of the five people plays falls into particular categories:
• Someone who inspires you
• Someone who supports you
• Someone who mentors you
• Someone you can escape with
• Someone you can confide in
Dr Yeung said: "Many of us like to think that our own success is based on how we perform, but without valuable people in our lives – core people around us who support us – we may not achieve as much as we aspire to."
Links of London are inviting the nation to recognise their own 'Circles of 5' and to celebrate and reward these five important people with a symbol of unity and celebration. They have designed the Team GB band as part of their Official Jewellery Collection of London 2012 and Team GB.
Personalities all over the world have been showing their support by wearing the Team GB band.
Christian is supporting Links of London's 'Circle of 5' campaign by giving his key support team of five people a Team GB band. To gift your 'Circle of 5' go to: www.linksoflondon.com/2012