Team GB's football teams look ahead to their opening
Olympic fixtures after challenging warm-up games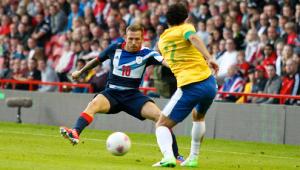 Team GB's football teams are making final preparations for their opening Olympic fixtures after tough tests in their warm-up matches against Brazil and Sweden at The Riverside on Friday.
The men's team lost 2-0, after Sandro and Neymar scored for a talented Brazil side which will begin as one of the tournament favourites.
Team GB's women drew 0-0 with Sweden after a Kelly Smith goal was ruled out for offside.
The warm-up games were the only chance for fans to see the teams play before the Olympic football tournament begins this week.
The women take on New Zealand in their group opener at the Millennium Stadium in Cardiff on Wednesday (KO 16.00). They'll then face Cameroon, again in Cardiff, on 28th July followed by Brazil at Wembley on 31st July.
The men's side kick off their competition against Senegal at Old Trafford (KO 8pm) on Thursday. Their second group game will be against the UAE on 29th July at Wembley followed by a meeting with Uruguay on 1st August at the Millennium Stadium.
London 2012 marks the first time that Team GB will compete in the men's football competition since the 1960 Olympic Games in Rome and the first time ever for the women's team.