The Little Knitting Company –
'Flying The Flag' With
Their Latest Knitting Kit
     07 Mar 12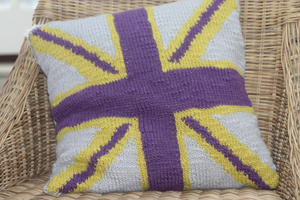 The Little Knitting Company has added their own unique flair to the iconic Union Jack design, with their latest cushion cover knitting kit.
There's something really satisfying in creating and adding your own personal touch to your home, so why not get crafty with this distinctive handknit design.
The Little Knitting Company are passionate about yarn and love sourcing wools and yarns from all over the world.  The Union Jack Cushion Cover Kit has been designed using their Tooti Fruiti yarn, in their own colour combination of sunflower, crocus and ash.
The Union Jack Cushion Cover Kit contains the pattern and chart; a pair of hand crafted responsibly sourced wooden knitting needles and buttons, plus enough yarn for you to make up this design.  It is available from www.thelittleknittingcompany.co.uk at £29.55 plus P&P.